Annan arrived in Tehran for talks over Syria crisis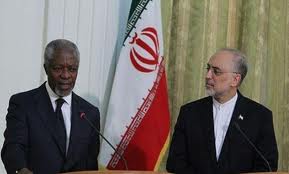 United Nations-Arab League peace envoy Kofi Annan arrived in Tehran on Monday from Syria for talks with the Islamic republic's top security official and foreign minister about the crisis in Syria , Al-Alam television reported.
Prior to departing from Damascus Annan said that he and Syrian President Bashar al-Assad have agreed on an "approach" to end the violence in Syria. Annan didn't disclose details but said he also intends to discuss the "approach" with the armed opposition that has been fighting to end Assad's rule.
Iran and Russia are the Assad regime's two major international allies.
Photo: Iran's Foreign Minister Ali Akbar Salehi R with United Nations-Arab League peace envoy Kofi Annan