MP Kanaan: Government's performance is "indefensible"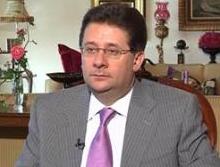 Change and Reform bloc MP Ibrahim Kanaan told OTV television station on Sunday that the path followed by the current government puts it in an indefensible position.
"There is a performance that should be overhauled, and we call on all of our partners in the government to take this decision, since it is not acceptable anymore to defend a government that hasn't presented a budget or managed to [quell a protest]," Kanaan said
Kanaan also voiced hope that the agreement between the Change and Reform, Lebanese Forces and Phalange parliamentary blocs over the Electricité du Liban (EDL) hourly-wage employees law would lead to "further consensus over important issues."
The 3 Christian parties jointly boycotted a parliamentary session on Tuesday that dealt with the draft concerning the striking EDL hourly employees issue.
According to local reports the majority of the EDL hourly employees are Shiites and for this reason Speaker Nabih Berri, who is the leader of the Shiite Amal Movement wants to change their status to permanent salaried employees. 1700 of the 2300 hourly employees are reportedly Shiites while only few hundred are Christians and the balance are Sunnis.
According to Taef accord Half of the employees should be Christians while the other half should be divided between the Sunnis, Shiites and the Druze.