Gemayel: One issue is not enough for alliance with FPM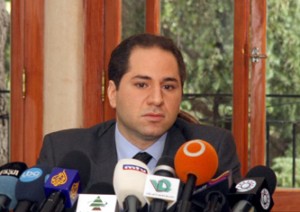 Phalange Party MP Sami Gemayel told OTV on Thursday that his party cannot form an alliance with its political rival, the Free Patriotic Movement, since the two groups disagree on a number of key issues.
"[The Phalange Party and the FPM] cannot form an alliance based on one issue because because several other key issues divide us such as non-state arms and the Syrian crisis ," Gemayel said in reference to Hezbollah arms and the uprising in Syria
Gemayel's remarks come after the Christian parties the Phalange, Lebanese Forces and Free patriotic Movement jointly boycotted a parliamentary session on Tuesday that dealt with the draft concerning the striking EDL hourly employees issue.
According to local reports the majority of the EDL hourly employees are Shiites and for this reason Speaker Nabih Berri, who is the leader of the Shiite Amal Movement wants to change their status to permanent salaried employees. 1700 of the 2300 hourly employees are reportedly Shiites while only few hundred are Christians and the balance are Sunnis.
According to Taef accord Half of the employees should be Christians while the other half should be divided between the Sunnis, Shiites and the Druze
Gemayel said that Speaker Nabih Berri should take the boycott into consideration.
Gemayels comment also comes after , FPM MP Ibrahim Kanaan told OTV that there was no problem against "expanding" the boycott agreement to include more than one issue
The Change and Reform bloc is closely associated with the Iranian and Syrian backed Hezbollah led March 8 alliance while the Phalange, Lebanese Force are closely allied with March 14 alliance