Syria Defector's Little-Traveled Path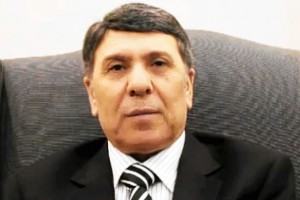 On his final day at Syria's oil ministry in Damascus, Abdo Husameddin tried to avoid raising suspicions: He stayed to sign off on some paperwork, he said, chatted with the oil minister and left at 5 p.m.
That March evening, the deputy oil minister started a three-day covert journey to Turkey, hosted at safehouses across the country and guarded by fighters opposed to President Bashar al-Assad. A year into the country's uprising, he became the highest-ranking official to defect from the Syrian government.
In the weeks that followed, all of Mr. Husameddin's assets and bank accounts in Syria were frozen, he said in an interview with The Wall Street Journal. Months later, Turkish security agents still sometimes escort him around his new host country, warning him that even abroad, he faces a threat from Syrian intelligence agencies, he said.
Syria's conflict has left up to 15,000 people dead, and has in recent months devolved into what some international diplomats have characterized as a civil war. Soldiers have defected at an increasing pace, including a Syrian air force pilot who flew his jet to Jordan last week. The government typically doesn't comment on defections but called the air-force pilot who defected to Jordan a "traitor."
On Thursday, Syrian media said a brigadier general from a family with close ties to President Assad had fled to Turkey in what would be the conflict's highest-level military defection.
But far fewer of the regime's high civilian officials have abandoned the regime. That fact has complicated efforts by the Syrian opposition to persuade world powers that it has legitimate leaders in line should President Assad fall. By contrast, in Libya's recent conflict, a procession of high-profile ministry and diplomatic defectors provided the foundation of the opposition to Moammar Gadhafi and later of Libya's transitional government.
President Assad's top security, ministry and military officials have proven fiercely loyal, and many come from the president's Alawite minority. But the 1.2 million civil servants in Syria's state institutions are, like broader society, polarized between pro- and anti-regime Syrians, according to Mr. Husameddin and current and former Syrian officials who corroborated much of his account of the dynamics at the country's state offices.
Mr. Husameddin attributes the lack of high-level defections largely to stepped-up security measures, a characterization echoed by other, lower-level state employees who have turned against the Assad regime. Safe passage out of the country is becoming increasingly tricky, Mr. Husameddin said, and there are few incentives to risk uprooting families and livelihoods to join a fragmented opposition.
Many state employees in Syria have turned against the regime but are staying in their jobs, he added, saying they are "defecting silently."
"When the regime falls, we need these people," he said. "We don't want the state to collapse. In fact, they will be beneficial in the next phase."
Regime officials say the lack of high-profile civilian defections reflects the loyalty of government workers and their determination to defeat what they see as a terrorist insurgency. The government hasn't commented on Mr. Husameddin's defection. The oil ministry didn't return requests to comment.
Regional powers have even raised the prospect of offering tens of millions of dollars to woo potential defectors from government, said two people familiar with such offers. "A lot of money is being paid to ply people away," said one of these people. "But there's also the thinking that some people should be kept in place for the day after."
One former state employee, who worked as a teacher in a state school, characterized government institutions as "totally infiltrated" with informers. He said he had been detained twice over the past year for long periods on vague charges—in connection, he suspects, with writing outspoken comments against the government in Arabic chat-forums online and often writing letters to magazines in the Middle East.
His account couldn't be verified, but was consistent with recollections of Mr. Husameddin. The former teacher said the prospect of speaking out against the regime has become "pure suicide" in recent weeks as the crackdown has intensified.
Mr. Husameddin, 58 years old, worked in Syria's state-controlled oil industry for 33 years. He was long a member of Syria's ruling Ba'ath Party, and served as deputy minister of petroleum and mineral resources since 2009, one of two deputies under the minister. In the three decades before that, he held various executive positions at state-run oil companies, and as adviser to the minister.
Few government officials, he said, believe the government's version of Syria's uprising, which holds that the regime is battling foreign-backed terrorists. "Everyone inside government knows exactly what is going on," he said.
The turning point for Mr. Husameddin came, he said, after he heard officials in a meeting at the ministry openly agreeing that the opposition "deserved nothing less than to be rolled over by tanks."
He described how government employees are closely tracked for their political allegiances, with offices full of informers who write up reports on dissenting behavior among their colleagues and send in names of suspects. He called them "civilian shabeeha," playing on the term for the armed pro-regime thugs that many Syrians say have helped the government crack down on protests.
Employees have been detained from their workplace for sympathizing with protesters, he said. Mr. Husameddin, who was one of the three top officials at the ministry, described an incident earlier this year during which two employees had been secretly planning a demonstration, to stand against violence in Syria, outside the oil ministry. They were detained the day of the planned protest, he said.
Political alliances are hard to keep secret in a state institution, he said. "From the security guard at the gate to the highest post in the institution, it's known to everyone and especially the authorities what the political position of the person is," he said.
Government officials now need state security authorization to leave the country, even for brief work travel, Mr. Husameddin and other current and former officials said. Authorization used to come from the prime minister, they said. But in closing ranks around his core regime, Mr. Assad has tasked a few key security agencies to control the travel of officials, these officials said. Even in Syria, their families are kept under strict surveillance, they said.
In April, a month after being smuggled out of Syria, Mr. Husameddin spoke at a closed meeting of foreign ministers and representatives from over 80 nations at the Friends of the Syrian People conference in Turkey's capital, Istanbul, the first of only two public appearances he has made.
"How hard it is for a person to be unsafe in his own country," he told the meeting, which was closed to the press, according to a copy of his speech. He described the gruesome video images to emerge from Syria as "barely 1% of the painful reality Syria is living."
Mr. Husameddin was whisked away by Turkish officials to Ankara right after the April meeting, where he was told he had to stay under security protection for some time, delaying his plans to begin rebuilding a life for his wife and four children in Istanbul.
His family had quietly flown to Jordan the day before his defection, and then on to Turkey to meet up with him.
In the interview, he discussed his lingering security concerns in Istanbul, where his family has now settled and security precautions have eased. Mr. Husameddin's son, Ashraf, resisted requests to photograph or videotape his father, saying the family still felt uneasy.
"It's so tense, even here," said the 24-year old, a dentist who has gotten a job in Istanbul.
"My children worry, my wife worries," Mr. Husameddin says, pausing and then smiling. "But this was why we left. We cannot worry forever, and we didn't lose everything to come out and be silent."
By NOUR MALAS
WSJ