Jumblatt says Sidon sit-in is directed against Suleiman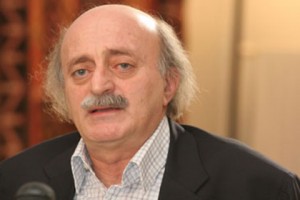 Progressive Socialist Party leader MP Walid Jumblatt said in remarks published on Saturday that the ongoing protest in Sidon was directed against President Michel Suleiman.
"What is happening in Saida ( Sidon) is directed against President Michel Suleiman and all the Lebanese people, so was the attack against Al-Jadeed television station," Jumblatt told An-Nahar newspaper.
He also said that "blocking roads and disrupting people's lives cannot solve the issue of [non-state] weapons."
Non-state arms or Resistance arms are terms used to describe the arsenal of the Iranian and Syrian backed Hezbollah militant group.
The PSP leader also called on all the Lebanese to "remember the will of late Prime Minister Rafik Hariri and his moderate policy."
Jumblatt did not reveal why he thinks the sit-in is directed against Suleiman, knowing that the declared aim of the sit-in is ending the presence of no-state arms in Lebanon, a demand that most support wholeheartedly.
Supporters of Salafi Sheikh Ahmad al-Assir began an open-ended protest against non-state arms in Saida on Thursday and set up a tent at the city's eastern entrance near the Bahaaeddine Hariri Mosque.
The Salafi sheikh told reporters Friday that the sit-in was "peaceful" like Egypt's Tahrir Square protest, which toppled veteran strongman Hosni Mubarak last year.
"If we do not see a response to our demands [to end presence of non-state arms], we will escalate the protest. We are not dealing with [normal] people, but with [people] who consider themselves gods," the sheikh said in an implicit reference to Hezbollah.
"I swear we will not go home before we feel that [the matter of non-state] arms will be seriously addressed. The protest will peacefully resume until death. We cannot live without dignity and the Resistance's arms have deprived us of dignity," Assir added.
Now Lebanon