Syrian Groups Say Violent Day Left High Civilian Toll
BEIRUT, Lebanon — Syria's opposition on Friday reported the deadliest 24-hour period so far in the uprising against President Bashar al-Assad and said rebel fighters had seized two Syrian generals, including the highest-ranking officer to fall into insurgent hands.
Accounts of the intensified mayhem in Syria came as Kofi Annan, the special envoy for the United Nations and the Arab League, prepared to hold a high-level meeting in Geneva that includes the five permanent members of the Security Council to rescue his sidelined Syrian peace plan from total irrelevance.
Mr. Annan told Reuters television that he was optimistic that the meeting, to be held Saturday, would be a success. But Russia, the Syrian government's most important backer, suggested that Mr. Annan's hope for creating a political transition in Syria had serious problems.
In a statement, the Russian Foreign Ministry called for new cease-fire mechanisms and the synchronized withdrawal of all armed combatants from Syria's populated battle zones. Only then, the statement said, could talks begin that "would allow the Syrians to independently define the agenda and time frames of the transition period."
Russia has opposed any proposal that would impose a political solution on the Syrians from the outside.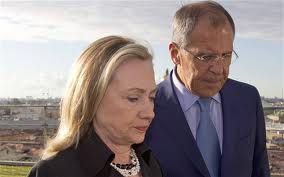 The Foreign Ministry statement was issued shortly before Foreign Minister Sergey V. Lavrov of Russia met in St. Petersburg with Secretary of State Hillary Rodham Clinton, who has repeatedly clashed with Mr. Lavrov over the Syria crisis and has called on Mr. Assad to resign as part of any solution. Both Mr. Lavrov and Mrs. Clinton plan to attend the Geneva conference, but there was no indication after their three-hour meeting that they had bridged their differences.
Tallies by Syrian opposition groups that track casualties reported on Friday that the previous day's death toll had reached 190 from violence in towns and cities throughout the country. The counts were detailed but could not be confirmed independently.
The largest number was concentrated in the Damascus suburb of Douma, an insurgent enclave about eight miles northwest of the capital, according to reports from the Syrian Observatory for Human Rights, a group based in Britain, and the Local Coordination Committees, a Syrian-based group.
A spokesman for the Syrian Observatory said the death toll on Thursday was the worst of any single day this year, with 125 confirmed civilian fatalities as well as the deaths of 65 fighters reported but under investigation. The observatory considers a death confirmed when videotape or other documentary evidence identifying the victim is received.
The coordination committees, which uses similar methodology but acts independently, reported 139 civilian deaths on Thursday.
Syria's Al Dunya TV confirmed the concentration of deadly violence on Douma. "The eradication operations in Douma are based on a 'surgical approach' and will continue to exterminate all terrorists," the station said.
With half a million residents, most of them members of Syria's Sunni majority, Douma has 80 mosques, and residents reached by Skype said most of them were closed.
"For the first time in Douma's history we don't have Friday Prayers," said one activist who identified himself as Mohammad Sayid. "People are hiding in the basements, and we're afraid mosques might be shelled."
"For the first time in Douma's history we don't have Friday Prayers," said one activist who identified himself as Mohammad Sayid. "People are hiding in the basements, and we're afraid mosques might be shelled."
The two Syrian generals who were reported seized appeared in a rebel video with three masked fighters who ordered them to identify themselves. They said they were arrested by rebels on June 22 and 23 in Damascus, and the video, posted on the Internet, showed close-ups of their identity cards and what appeared to be bruising on their faces.
One said he was Maj. Gen. Faraj Shehadeh al-Makt, a pilot identified by the rebel video as the highest-ranking officer seized by the insurgency so far. A government news Web site, Syria Online, said a lieutenant general — an even higher rank — by the same name had been abducted in the Adawi area, near the capital, by an "armed terrorist group" that had stopped his car.
There was no official mention of the second officer shown in the rebel video, who identified himself as Brig. Gen. Ahmad Silaybi and said that he worked at a notorious prison as a counterterrorism expert.
Violence around the country has increased drastically in the past two weeks, since the United Nations monitoring mission deployed as part of Mr. Annan's peace plan suspended work, saying it was no longer possible for the 300-member monitor team to operate safely.
An opposition activist, Imad Hosary of the Local Coordination Committees, attributed the increased deaths to retribution against communities that had previously cooperated with the United Nations monitors. The impending Geneva meeting is a factor as well, Mr. Hosary said.
"The regime wants to show the Russians that they are still controlling the ground after most of the areas have gone out of government control, like Idlib, Aleppo Province, Damascus Province," he said.
June appears to have been the deadliest month in the 16-month conflict, with 1,771 civilians killed, according to the observatory's figures. With rebel military deaths, the toll rises to about 3,000 so far — compared with 411 total deaths in June 2011.
In Douma, heavy shelling continued for the second day on Friday, according to an activist there who was reached via Skype. He said the opposition was operating two field hospitals, which were both over capacity with more than 100 seriously wounded patients.
Other areas said to have been hard hit include Homs, with 25 dead; Deir al-Zour, with 13; Dara'a, with 12; and Hama, with 10, an observatory spokesman said.
NY Times