Syrians defiant as world powers plan talks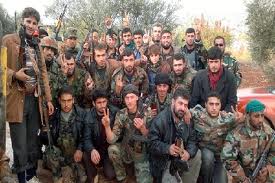 International envoy Kofi Annan expressed optimism Friday that the latest talks on the crisis in Syria will yield "an appropriate outcome" despite a failed peace plan and relentless violence in the Middle East nation.
Diplomats prepared for a weekend emergency meeting in Switzerland as angry grass-roots momentum against Bashar al-Assad's regime spread across Syria and protesters praised the Free Syrian Army rebels with shouts of "FSA forever.
"We're confident that God's victory is near," marchers chanted in nationwide Friday demonstrations against the government.
"We will no longer kneel to anyone but God," emboldened protesters shouted near the presidential palace in central Damascus. They excoriated the al-Assad family with cries of "we are coming after you, may God curse your soul."
As the protests unfolded, the opposition Local Coordination Committee urged officers and soldiers to defect, as many already have.
"If you defect in greater numbers and sooner rather than later, you can spare Syria from further tragedies and pain," the LCC said in an appeal to the army. "Syrian young men, defect from the regime's sinking ship because the new Syria will need you to protect her people and borders."
U.N. Secretary-General Ban Ki-moon said he hopes the meeting in Geneva, Switzerland, marks a "turning point" in diplomatic efforts to end the unrest.
Annan, the U.N. and Arab League special envoy to Syria, invited top diplomats of the five permanent members of the U.N. Security Council. Envoys from Turkey, the United Nations, the European Union and the Arab League are also invited.
Ahead of the gathering, U.S. Secretary of State Hillary Clinton sits down with her Russian counterpart Friday seeking to raise pressure on the crisis in Syria.
Clinton meets Russian Foreign Minister Sergey Lavrov in St. Petersburg amid their nations' deep divisions over the crisis. Clinton will then go to Geneva for the emergency meeting, set for Saturday. U.S. officials have advocated a political transition plan in Syria, but Russia opposes foreign intervention in the violence-torn nation.
Al-Assad, interviewed Thursday night by an Iranian TV station, said the international effort to deal with Libya last year is "not the model to settle" the crisis. He said the only way to deal with the crisis is through a "national model."
Under a U.N. mandate, NATO forces deployed its forces to protect Libyan civilians from Moammar Gadhafi's forces. The deployment helped rebels topple Gadhafi's regime.
Some groups estimate more than 15,000 have died in more than 15 months of unrest across the country.
On Friday, several explosions hit Damascus neighborhoods, according to the Local Coordination Committees for Syria, a network of opposition activists.
Regime forces killed at least 15 people across Syria on Friday.
Syrian expatriates told CNN that pro-regime attacks Thursday left more than 50 people dead in the Damascus suburb of Douma, an assault they describe as a "massacre" that also resulted in scores of injuries and widespread destruction of buildings. Amateur video showed bloody corpses.
CNN cannot independently confirm the reports of casualties or violence because Syria restricts access by international journalists.
The state-run Syrian Arab News Agency said dozens of "terrorist elements" have been killed in clashes as security forces continue to track down and arrest them. It said the forces destroyed a terrorist compound. It said security discovered "prisons" where kidnapped people were tortured and killed and found terrorist "field hospitals" with stolen medical equipment.
The failure of Annan's six-point peace plan to get off the ground has emboldened opposition groups.
The Syrian National Council, the main political opposition group, said there will be "no dialogue and no partnership" with al-Assad's regime.
"The SNC considers that the original task of the United Nations and the U.N. Security Council is to help the people of Syria to reach their goals and rights and not to impose pressures on them to make concessions," the opposition group said in a Facebook statement.
Council officials said they are meeting with various leaders this week, including the French foreign minister in Paris on Friday and Egyptian officials in Cairo on Sunday. A delegation of the group just returned from a meeting with Kurdistan region leaders in Iraq, the political opposition group said.
In its appeal to soldiers, the LCC said al-Assad has betrayed Syria and "to the regime, you are merely an armed shield."
"The weapons you are using were paid for by the Syrian people. These weapons have contributed to severe tragedies, and are now lodged in the chests of your fathers, mothers, children, and sisters."
A flurry of attacks have targeted Damascus and Aleppo in recent months, including bombings in the Syrian capital this week — one at a TV station Wednesday near Damascus and another at a parking lot near the Justice Ministry on Thursday.
Opposition groups have said such attacks are the work of the government, while the regime has blamed the attacks on terrorists.
But rebel groups comprising defectors and locals have emerged and are maturing. Fighting has intensified as groups such as the Free Syrian Army pose a challenge for government security forces.
"Their operations in some locations are improving in efficiency and organization," the U.N. Independent International Commission of Inquiry on the Syrian Arab Republic said this week, describing anti-government forces.
"These groups appear to have spread throughout the country, expanding their activities to new areas, and clashing simultaneously with government forces on multiple fronts. Their increasing capacity to access and make use of available weapons has been demonstrated in recent weeks."
CNN