Army steps up patrols as Assir vows to continue protest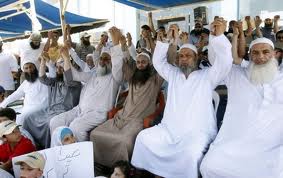 Controversial preacher Sheikh Ahmad Assir defied a demand Friday by leaders of this southern port city that he reopen the Sidon entrance of Lebanon's highway, as the Lebanese Army stepped up armed patrols in the city.
"We absolutely won't open the road, not even if a decision is made by the [U.N.] Security Council," Assir, who is protesting Hezbollah's arms, told reporters at the site.
His remarks came shortly after a statement by local leaders in Sidon denounced the blocking of roads and called on those using the tactic to cease and desist.
"Expressing an opinion is the right of every citizen … but the practice of blocking roads is not acceptable at all," said the statement at the end of a meeting at Sidon's City Hall.
"We respect the opinion of he who planned the sit-in as well as its announced goals. We have the right to freedom of expression, but without blocking roads on others," said the statement, which was read by former Prime Minister Fouad Siniora.
Around 150 protesters set up a tent and blocked the highway Thursday in continuation of a protest against non-state arms that began a day earlier.
Assir swiftly hit back at Siniora. "You are afraid. But we only fear God," he said from the protest site.
"We prefer death to humiliation," he cried. Dozens of supporters repeated the phrase loudly after him.
"We are blocking the road on the resistance party [Hezbollah] and the Amal Movement, which dominate the country. Why should a group of rascals block the [Beirut] airport road?" he complained.
Turning to Hezbollah chief Sayyed Hasan Nasrallah and Amal Movement head Nabih Berri, Assir said: "I swear to God … through peaceful means, we will compel you to pay the price."
He pledged to maintain the protest unless "someone convinces us" that Hezbollah and Amal will seriously respond to efforts to resolve the weapons' issue.
Interior Minister Marwan Charbel, who launched a monthlong law enforcement crackdown Wednesday, was not available for comment when contacted by the Daily Star.
"The minister is following up on security issues," an aide to Charbel said.
Charbel had repeatedly said that while security forces can open a blocked road in a matter of minutes he would not order them to do so for fear of bloodshed.
Assir led Friday prayers at the protest site.
"I apologize to the people who were affected by the road closure," Assir told some 700 followers who joined the prayer.
The Lebanese Army announced Friday afternoon that it was increasing armed patrols all over the city as a security precaution.
Daily Star