South Lebanon sit-in demands Hezbollah disarm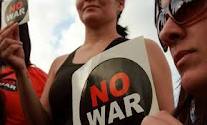 A Salafist Sunni cleric led a sit-in on Thursday in the south Lebanon port city of Sidon to demand the disarmament of Hezbollah, an AFP correspondent said.
Supporters of Sheikh Ahmed Assir had on Wednesday night blocked the highway at Sidon's northern entrance and prevented cars from passing, the reporter said.
On Thursday they piled tents, chairs and mattresses in the middle of the road.
Sheikh Assir told reporters the protesters would not leave "until Hezbollah is disarmed and its weapons are handed over to the state."
"These weapons are the most important crisis in Lebanon," he said, calling the sit-in an "intifada" and "a weapon directed against the dominance of the party of the resistance," Hezbollah.
The demonstration is aimed at "stripping the weapon that sustains the criminal regime in Syria," he added.
The sit-in comes after gunmen on Monday shot at New TV headquarters in West Beirut after it hosted an interview with Assir, who criticised Hezbollah chief Hassan Nasrallah and renewed his support for the "Syrian revolution."
The security forces arrested one assailant some residents said was a Hezbollah supporter, and after his arrest, groups of masked protesters blocked roads in the capital with burning tyres for two consecutive nights.
Lebanon has seen tensions soar in the northern port of Tripoli and Beirut, as supporters and opponents of the Syrian regime have engaged in deadly clashes.
Hezbollah, considered the most powerful military force in Lebanon, is backed by both Syria and Iran.
The Shiite group considers its weapons to be a legitimate defence against Israel, whereas the opposition believes that the state should have the monopoly on arms and decisions concerning war and peace.
AFP