Syrian troops sexually assaulting men, women, children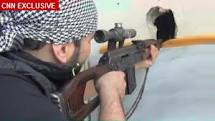 Forces loyal to Syrian President Bashar al-Assad are using sexual violence against men, women and children in detention and during raids in opposition strongholds, Human Rights Watch said in a report on Friday.
"Sexual violence in detention is one of many horrific weapons in the Syrian government's torture arsenal," said Sarah Leah Whitson, the organization's Middle East director, in a press release. "Syrian security forces regularly use it to humiliate and degrade detainees with complete impunity."
She added that, "The assaults are not limited to detention facilities — government forces and pro-government shabiha militia members have also sexually assaulted women and girls during home raids and residential sweeps."
In the report, the organization said soldiers and pro-government armed militias — locally known as shabiha — have also sexually abused women and girls as young as 12 during military sweeps of residential areas.
The report is based on interviews with former detainees, sexual violence survivors, defectors from the Syrian security forces and the army, first responders, women's rights activists and family members.
Much of the research on sexual violence in Syria relies on statements by individuals who have fled the government's crackdown on dissent and spiraling violence.
One group trying to document the sexual abuse in the country is Women Under Siege, which was spearheaded by Gloria Steinem. The organization's website uses crowd-mapping to track Syrian reports of rape and other forms of sexual abuse.
The women's organization draws on a wide range of testimonies, including fathers speaking out for their daughters, doctors for their patients and confessions of former soldiers.
The Syrian government tightly restricts access to journalists, researchers and aid workers, making such reports extremely difficult to verify.
Duty to Document
"It's a sinkhole of fact checking," wrote Women Under Siege Director Lauren Wolfe along with Syria researcher Jackie Blachman-Forshay in a blog post in late May. "But, for the sake of our humanity, we believe we have to mark all of this down and try."
Hashem Marwa, head of the legal affairs office of the Syrian National Council, an opposition coalition based in Turkey, warned in May that rape is being used as a weapon in Syria. He told the Dubai-based satellite TV channel Al-Aan that rape is used to "force confessions, oppress and scare people so they will not participate in the revolution."
"We think the numbers are in the hundreds," he said.
Human Rights Watch said in its recent report that it had documented over 20 specific incidents of sexual assault across Syria since the start of anti-regime protests in March 2011, five of which involved more than one victim.
The majority of cases were in the Homs governorate, the stronghold of the opposition.
One defector, Toufiq, reported that one of his friends in the security forces admitted to taking part in a gang rape of two women detained during a residential sweep in Homs last year, filming the incident on his cellphone.
Walid, who defected from the riot police, is quoted in the report as saying that officers bragged about raping women during raids in the city of Daraa, the birthplace of the anti-regime uprising.
"[One officer] joked that during that house raid, 'When I fucked the woman, she made a lot of noise because I must have pleased her so much,'" the report quoted him as saying.
The organization also quotes Maha, from Daraa, saying that in February Syrian government forces and shabiha raided her house, looking for her husband and threatened rape her if she failed to turn him in.
"He tore my shirt and started grabbing my breasts. The one who grabbed me looked like shabiha — he was wearing civilian clothes. The person in charge was outside," she said.
A man dressed in green, "clearly from the army" entered the room. "The officer said to tell her that if her husband doesn't turn himself in . . . she will see worse than this," the report quoted the woman as saying.
'Complete Impunity'
No evidence was found by the organization of high-ranking officers commanding their troops to commit sexual violence during home searches, ground operations or in detention. But the report noted that such acts enjoy complete impunity.
Moreover, many of the reported assaults were in circumstances in which commanding officers knew or should have known crimes were taking place — for example, regular acts of sexual violence in detention centers.
Violence in detention centers ranged from sexual abuse, including rape, penetration with objects, sexual groping and prolonged forced nudity, to electroshock and beatings to the genitalia, the watchdog organization said.
"The full extent of sexual violence in and outside of detention facilities remains unknown," the report said, noting that shame, social stigma and fear of so-called honor killings keep most victims silent.
A key issue is that Syrian survivors of sexual assault lack access to medical or psychological treatment, both in their home countries and neighboring states such as Lebanon, Jordan and Turkey, to which many have fled, Human Rights Watch reported.
It urged the international community to take steps to make perpetrators of sexual and other violence liable, including referring Syria's case to the International Criminal Court in The Hague.
"The international community urgently needs to address the human rights violations going on in Syria," Whitson said in the press release.
"The Security Council should send a strong signal to the Assad government that they will be held accountable for sexual violence and other human rights violations — by referring the situation to the International Criminal Court," she added.
UPI