Egypt Election: Rival candidates claim victory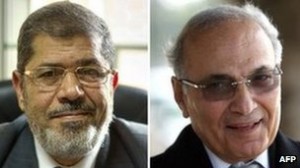 There is growing confusion in Egypt over the outcome of the country's presidential election after Ahmed Shafiq's campaign team said their candidate had secured 51.5% of the vote.
The Muslim Brotherhood's Mohamed Morsi has already claimed victory in the decisive contest after final tallies from the polling stations showed he was leading his rival by almost a million votes.
But at a news conference in Cairo, a spokesman for Mr Shafiq said the figures used by the Islamist movement were incorrect.
He said the 70-year -old candidate, Hosni Mubarak's former prime minister, was half a million votes ahead and urged his supporters to celebrate.
It means that the result of the election will hang in the balance until Thursday when the official figures are due to be announced.
The deepening dispute comes on a day of protests in Cairo against the military's move to grant itself sweeping powers.
The Muslim Brotherhood has called for its supporters to head to Tahrir Square where they will be joined by several revolutionary groups.
On Sunday, as polls closed in the country's close fought presidential election, the ruling military issued a declaration granting itself the powers that were assigned to the parliament.
The military has ordered the dissolution of the Islamist dominated legislature after a court ruled the parliamentary elections – completed six months ago – unconstitutional.
The move gives the military control over law-making and the writing of a new constitution, which will effectively limit the new president's powers.
The Muslim Brotherhood believes the military which has been ruling the country since the revolution 16 months ago, is trying to frustrate the transition from military to civilian rule.
The Supreme Council of the Armed Forces (SCAF) has insisted that it will hand over power to the new president by June 30.
It has sought to play down claims of a power grab by saying that its control over legislation will simply act as a "balance" on the president that the parliament would have performed.
The Muslim Brotherhood has demanded the re-instatement of the legislature which is being guarded by riot police who have been ordered to keep MPs out.
Revolutionary groups have termed the military's move a "coup" but many young secular activists are also uneasy at the prospect of the Muslim Brotherhood taking the presidency.
Sky News