Syria becomes Hezbollah headache, report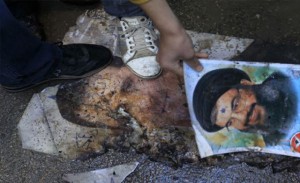 Analysts say Hezbollah has found itself in a ticklish situation as the rebellion in Syria drags on.
Syria and the militant anti-Israeli group based in neighboring Lebanon have been longtime friends and allies, but Hezbollah has also been urging Damascus to tone down the violence and consider peaceful political reforms.
"The Syrian government is important for them for logistical and political reasons. They don't want to be opposing the Syrian government," said Rami Khouri, head of the International Affairs Institute at American University in Beirut.
"They have found this middle ground where they talk about the need to reform and solve the political issues in Syria peacefully but it's not very convincing," Khouri told Voice of America.
Hezbollah's public statements, however, have been enough to irk the Syrian government, VOA said.
While the predominantly Shiite Hezbollah may want President Bashar Assad to hang on to power, its biggest concern may be the conflict spilling into Lebanon in the form of violence between Sunni and Shiite Muslims, the report said. It is a concern shared by Amal, Lebanon's other Shiite political group, said American University of Beirut professor Hillal Khashem
"Neither Hezbollah nor Amal are interested in creating an atmosphere of tension and putting at risk the achievements that accrued to the Shiite community over the past 20 years," Khashem told VOA. "Therefore they have a vested interest in maintaining a semblance of quiet in the country."
UPI