Gemayel slams Syria over drawing Lebanon into crisis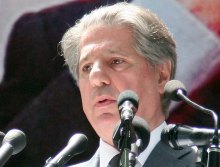 Former Lebanese president and current Phalange Party leader Amin Gemayel slammed over the weekend Syria for seeking to relieve pressure of its crisis by causing unrest in Lebanon and said Hezbollah would soon realize that its weapons were no longer wanted by Lebanon.
"What is occurring along the Syria-Lebanon border, be it in the Bekaa or the north, is very serious. We see precursors to draw Lebanon into what is taking place in Syria. Preparations by the [Syrian] regime are under way to link Shiite areas with Alawites to create breathing space [for Syria] in Lebanon," Gemayel told Dubai TV in a late Sunday interview.
This was a clear reference to recent incidents along the shared borders as well as gunbattles between the predominantly Sunni neighborhood of Bab al-Tabbaneh and the majority Alawite neighborhood of Jabal Mohsen in the northern coastal city of Tripoli.
Gemayel also said the interests of both Israel and the Assad regime intersected and "complement each other."
"If the Syrian regime really wanted to resist Israel and was sincere it would have encouraged the resistance in the [occupied] Golan Heights and not move the conflict to Lebanon," Gemayel said, adding that Damascus' support for the Lebanese resistance was "only political."
He said Hezbollah's weapons have become a strategic asset that serves Iran's regional policies.
Regarding the handover of its weapons to the Lebanese government, Gemayel said Hezbollah could not stubbornly cling to its arms.
"One day, it [Hezbollah] will realize that these weapons are no longer a Lebanese desire."
Gemayel said Lebanon had no interest in getting involved in the Syria crisis "because the conflict is much bigger than us."
The Kataeb Party leader voiced concerns over reports from Homs that Christian homes and place of worship were being raided.
"There are frightening reports from Homs on homes and places of worship being raided that make us worried about the fate of the Christians there," Gemayel said, pointing to the massive Christian migration from the city.
Daily Star