Syrian opposition asks for U.N. monitors to be armed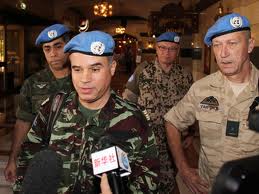 Syrian troops besieged several districts of the central city of Homs on Sunday, a day after violence across the country cost at least 69 lives, amid calls by the main opposition group for the U.N. monitors to be armed.
Shelling and shooting targeted several districts of Homs on Saturday and killed at least five people, according to the Syrian Observatory for Human Rights, which said more than 1,000 families were trapped in the city.
"More than 100 people are injured, many of them badly, and the lack of medical equipment means some of them will die," the Observatory's Rami Abdel Rahman told AFP, adding there was also a lack of medical staff.
Home to several rebel hideouts, Homs has been under intermittent attack by regime forces ever since Baba Amr district was relentlessly pounded for a month earlier this year and retaken by the regime.
Violence killed 69 people across Syria on Saturday, among them 51 civilians, 16 regular soldiers and two rebel fighters, according to the Observatory.
Seven of the civilians, including three women, were killed in shelling of Douma, an opposition stronghold just north of Damascus, the Britain-based watchdog said.
Five civilian men were killed in Saqaba, also in Damascus province, the Observatory said, adding some of them had been "slaughtered" with knives.
"This kind of killing has become common in recent weeks," Abdel Rahman said, calling for an independent investigation.
In the same region, a man, his wife and their child were killed when their house in the town of Irbin was hit by a shell, the Observatory said.
Arming U.N. monitors
Syria's main opposition group was "surprised" by the U.N. observer mission's suspension, it said on Saturday, calling on the U.N. Security Council to adopt a resolution under Chapter VII to arm the monitors.
"At a time when the regime is committing its worst crimes against the Syrian people, we are surprised by the U.N. observers' decision to suspend their work, because of what they described as 'an intensification' of violence," the Syrian National Council said in a statement obtained by AFP.
The SNC's statement said the U.N. monitors had failed "to pinpoint the source or type of violence in question."
Suspending the mission, the statement added, "serves the criminal regime's interests, and denies the Syrian people the little protection they had."
The SNC reiterated its calls for the U.N. Security Council to "intervene quickly, and to pass a resolution under Chapter VII (of the U.N. Charter) to arm the U.N. monitors, so that they can defend themselves … and ensure that the regime stops killing, while enforcing (U.N.-Arab League envoy Kofi Annan's) peace plan."
U.N. observers sent to Syria to monitor an April 12 ceasefire that never took hold have suspended their mission, Major General Robert Mood said on Saturday.
Speaking of "intensified violence" in the past 10 days, the risk to observers and the "lack of willingness by the parties to seek a peaceful solution," Mood said the mission is "suspending its activities."
"This escalation is limiting our ability to observe, verify, report as well as assist in local dialogue and stability projects ─ basically impeding our ability to carry out our mandate."
Violence in Syria has killed more than 14,400 people since an uprising against the regime of President Bashar al-Assad erupted in mid-March 2011, according to the Observatory.
Al Arabiya