US, Russia to work on Syria 'disagreements' at G20 summit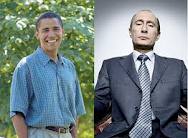 US President Barack Obama and his Russian counterpart Vladimir Putin will discuss differences over what to do about the conflict in Syria at a G20 summit next week, a top US official said on Friday.
"Obviously, disagreements persist with regard to Syria, but it will be a good opportunity for the presidents to meet and work it through," said State Department spokeswoman Victoria Nuland, referring to the Mexico talks.
Russian Foreign Minister Sergei Lavrov denied that Moscow has been discussing Syrian President Bashar al-Assad's departure with Western nations, seemingly hoping to quash reports about a shift in its approach to Syria.
"No such discussions" about political transition in Syria had taken place, he said, after Nuland spoke Thursday of a "constructive conversation" with the Russians in Kabul on a transition plan modeled on Yemen.
Nuland said Friday she had not meant "to imply any positions on their part."
But she added: "We were talking about the general direction that we want to see Syria go, the general principles that the secretary has outlined for a post-Assad transition.
"With regard to our dialogue with the Russians, we are talking about the full spectrum of issues," she told journalists.
"We are talking about the situation in Syria. We are talking about how we can implement the Kofi Annan plan in all of its elements."
The six-point plan drawn up by UN-Arab-League envoy Kofi Annan includes a Syrian-led process to bring in political transition in Syria, where Assad has unleashed a brutal crackdown on opposition rebels.
In an editorial in the online Huffington Post, Lavrov said Moscow was working with Syrian authorities on an almost daily basis to urge them to implement the Annan plan and "resolutely abandon their delusion that the internal political crisis in Syria will somehow go away."
"We need to bring all the weight to bear on both the regime and the opposition and make them cease fighting and meet at the negotiating table," he said, pushing Moscow's call for an international conference on Syria.
He also dismissed calls by some sections of the Syrian opposition for outside intervention.
"Other formulas that involve external intervention in Syria — ranging from blocking TV channels that do not satisfy someone, to increasing arms supplies to opposition groups, to airstrikes — will not bring peace either to that country or to the region as a whole," Lavrov argued.
Denying that Moscow was trying to prop up the Assad regime, he added: "If we proclaim ending the bloodshed as our primary concern, we should focus precisely on that; in other words, we must press for a ceasefire in the first place, and promote the start of an inclusive all-Syrian dialogue aimed at negotiating a peaceful crisis settlement formula by the Syrians themselves."
India Times