Lebanon MP says parties possessing arms 'seek' strife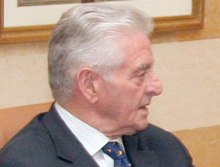 National Liberal Party leader MP Dori Chamoun said in remarks published on Friday that those who possess arms in Lebanon were the ones seeking strife.
"Excuses that dialogue at this time aims to [prevent] strife in Lebanon is unacceptable because those who possess arms, Hezbollah, are the ones seeking [to cause] strife," Chamoun told Kuwaiti newspaper As-Seyassah.
He also asked how dialogue can succeed when Hezbollah refuses to discuss its weapons, and called on all political parties "to have the courage to tell Hezbollah that its arm are the only source of threat to Lebanon."
Chamoun is referring to The national dialogue committee meeting which was chaired by President Michel Suleiman on Monday at the Baabda Presidential Palace after an 18 months suspension of talks.
Hezbollah MP Mohammad Raad said last Sunday that anyone who wanted to discuss Hezbollah's arms was serving foreign schemes.
"All those who want to discuss the issue of the Resistance's arms would be serving foreign Israeli-US schemes," Raad who heads the Hezbollah parliamentary block told al Manar TV
Hezbollah, which was credited with liberating Lebanese territories from Israel in 2000 was a very popular organization in Lebanon and throughout the Arab world. But according to analysts ever since its 2006 war with Israel, Hezbollah has become the main liability for Lebanon. In 2006 Hezbollah's arms were used to try and bring down the government of former PM Fouad Siniora. In 2008 Hezbollah pointed its guns against the Lebanese people when it occupied more than half of Beirut and tried but failed to occupy Mt Lebanon . In 2011 it brought down the government of former PM Saad Hariri and reportedly used its arms to force progressive socialist party leader MP Walid Jumblatt and his parliamentary bloc to vote for their candidate Nagib Mikati as the new premier . Hezbollah's current support for the Syrian and Iranian regimes is another main concern for the Lebanese people, analysts say.