Vatican: Syria started descending into hell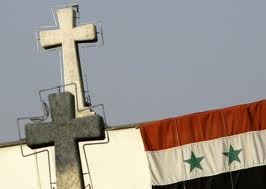 Syria, where a 15-month conflict is intensifying, has started its descent into hell, the Vatican's ambassador to the Middle East country said Wednesday.
Nuncio Mario Zenari would not be drawn on whether Syria was in the midst of a "civil war", a term being used increasingly by the international community, but he said "the impression prevails [that for] the people a descent into hell has started."
Zenari told Vatican Radio that Christians could bridge a gap in the stricken country but denied that they were being targeted by particular persecutions.
"It is the Christians' mission to play the role of a link at all levels," he said.
"They're active in very painful situations, such as in Homs where we have priests, nuns and monks… who are setting an example and risk their lives."
They were also helping to impose ceasefires and assisting people trapped in areas where they have come under attack.
Zenari rejected reports by unspecified media that minority Christians were being targeted by some armed opposition groups.
Vatican news agency Fides reported on Tuesday that Christians had massively fled the town of Qusayr, near Homs, where only about 1,000 were left of the 10,000 who lived there before the outbreak of violence.
Fides said they were forced to leave after an armed opposition group led by General Abdel Salam Harba set an ultimatum. Christians in Qusayr were reportedly no longer allowed to move around freely and forced to let Muslims pass first.
"So far, I would say that Christians share the same sad fate as all Syrians… I would not say that they are the object of particular discriminations, less so persecutions," said Zenari.
The lot of Christians in Syria today does not compare to that in other countries in the region, he said. "Sometimes it is compared to Iraq, but you cannot compare this."
In an October 2010 attack, militants stormed a church in central Baghdad, killing 44 worshippers, two priests and seven security force personnel. It was claimed by Al-Qaeda's local affiliate, the Islamic State of Iraq.
Dozens of attacks on churches and houses of worship since the US-led invasion of Iraq in 2003 served to raise sectarian tensions there.
AFP