Rival Lebanon leaders agreed to defuse tension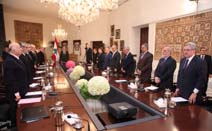 As expected rival political leaders in Lebanon met face-to-face for the first time since November 2010 in a new session of the National Dialogue talks aimed at reducing the tension in the country resulting from the 15-month-old unrest in Syria.
The session which was held at the Baabda palace was chaired by president Michel Suleiman.
During his speech at the beginning of the session President Suleiman voiced the importance of decreasing the intensity of political rhetoric, National News Agency reported on Monday.
"We are in front of a national responsibility. There is no problem addressing all issues [during dialogue] but the intensity of political rhetoric and tension must be decreased," Suleiman said.
He added that discussions should be "openly" held in order to reach solutions to the country's current problems.
According to a statement issued by the president's office , Lebanon's rival political leaders agreed on Monday to a series of points emphasizing stability and coexistence in Lebanon amid the violence rocking neighboring Syria.
The participants voiced their commitment to respecting the Taif Agreement while still considering means to improve the 1989 pact that ended the Lebanese Civil War.
The participants also agreed to commit to dialogue, work to reinforce "the pillars" of stability and maintain civil peace.
The National Dialogue Committee called on all political parties not to adopt an intense political rhetoric and "confirmed" the formula of co-existence.
"Lebanon should be neutral from the policy of axes and international and regional struggles… except for decisions based on legitimate international and Arab consensus," the statement said.
The committee also voiced Lebanon's commitment to "controlling the situation along the Syrian-Lebanese border and preventing the formation of a buffer zone in Lebanon and using the country as a path to smuggle arms."
The leaders voiced support for the judiciary and called for implementing plans to diversify the Lebanese economy.
They also called on the Lebanese people to refrain from violence and support the army and its mission.
The participants agreed continue to identify a mechanism for implementing decisions taken during previous national dialogue sessions.
The next sessions was scheduled for June 25.
As expected nothing was mentioned in the statement about Hezbollah arms or the arms of the Palestinian factions that are loyal to the Syrian regime.
The statement added that a copy of the agreements will be sent to the Arab League and the United Nations.