Abductions near Lebanon-Syria border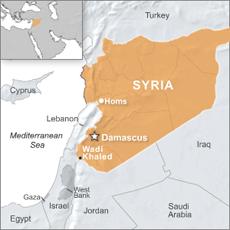 Gunmen abducted five  Syrian men  including four Alawites and one Shiite on Sunday along the border with Syria in retaliation  for the kidnapping of  Sunni Lebanese  earlier on Sunday  in the same region, a security official and witnesses told AFP.
The tit-for-tat abductions occurred in the Wadi Khaled border region between the two countries, where tensions have run high between supporters and opponents of the regime in Syria, the sources said.
They said unidentified gunmen first kidnapped a Sunni Muslim Lebanese man in the village of Massoudiyeh, which has a large Alawite community, the same sect of Syrian President Bashar al-Assad.
Afterwards gunmen abducted four Syrian Alawites in the Wadi Khaled region and later a Syrian Shiite Muslim was also seized, the sources added.
The Alawite sect is an offshoot of Shiite Islam and represents only 12 percent of Syria's mostly Sunni population of 22 million people.
Residents of the mostly Sunni region of Wadi Khaled blocked roads and burned tires to protest against the abduction of the Lebanese national.
Several kidnappings of Lebanese and Syrians have recently occurred in Wadi Khaled, which hosts thousands of Syrian refugees who have fled repression in their country.
The opposition Syrian National Council has repeatedly accused the Damascus regime of breaching the border with Lebanon and of launching attacks against Lebanese citizens and Syria refugees alike.
Lebanon has also witnessed deadly sectarian violence over the past weeks, namely in the northern port city of Tripoli where supporters and opponents of the Syrian regime have clashed.
Now Lebanon