Suspicious of cover-up, IAEA to hold Nuclear talks with Iran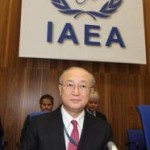 The head of the UN nuclear watchdog agency announced yesterday that his agency would hold talks with Iran again on June 8 and also voiced suspicions that Iran has been destroying buildings at a military site, possibly indicating a cover-up of activities there.

The site in question is the Parchin military complex, to which the International Atomic Energy Agency (IAEA) has been pushing particularly hard to gain access. Iran has consistently refused to grant access to the site. The IAEA suspects that Iran has carried out high explosives tests at Parchin.

Although diplomats and unnamed IAEA officials have mentioned such concerns before, this is the first public acknowledgment by the IAEA head, Yukiya Amano, giving the suspicions weight, according to Bloomberg.
His comments imply that the IAEA is concerned that Parchin is being "cleansed" in preparation for an IAEA visit Iran will likely have to permit at some point, according to Bloomberg. The suspicions are based on satellite images released last month that show activities that include "the use of water, demolishing of buildings, removing fences and moving soil," Mr. Amano said, according to Bloomberg.
Commercial satellite images published subsequently by the Washington-based Institute for Science and International Security showed two buildings visible on earlier photos no longer standing.
"There are visible tracks made by heavy machinery used in the demolition process," said a commentary by the think tank accompanying the photos. "Heavy machinery tracks and extensive evidence of earth displacement is also visible throughout the interior as well as the exterior of the site's perimeter."
"We have the general concern that these activities may hamper our future verification activities," at the site, [Amano] said. "Information that we have indicates that activities may have been undertaken related to the development of nuclear explosive devices and … having access is very important to clarify this issue."
Amano announced last month that an "agreement was at hand" on the IAEA's request to visit sites where it suspects Iran might have developed nuclear weapons. His remarks today indicate that the announcement might have been "premature" and will reinforce the beliefs of those who say the nuclear negotiations process is merely a pretense that Iran is using to buy time to hide evidence of nuclear work until it can no longer hold off the IAEA, the NYT reports.
"They hit a bump," David Albright, president of the Institute for Science and International Security, a Washington research group that tracks the Iranian nuclear program, said in a telephone interview. "Amano is trying to expedite things to make sure it's not a stalling measure. The agency needs to expedite this and find out if the Iranians are serious."
Bloomberg reports that although Amano did not specify the purpose of the June 8 talks, "it was clear" that the IAEA would pressure Iran to finalize arrangements for the organization to resume its investigation into Iran's nuclear program, which has been on hold for more than four years.
Meanwhile, world powers – the US, Britain, France, Russia, China, and Germany (known as the P5 + 1) – have been trying to persuade Iran to halt its uranium enrichment, which Iran insists is for civilian energy purposes. Talks are scheduled to pick up again in Moscow on June 18. The last IAEA meeting, held in Baghdad in May, opened with optimism about Iran and world powers finding some common ground, but negotiators had little to show at its conclusion, reports the Monitor.
The Carnegie Endowment for International Peace said that an agreement between the IAEA and Iran could "greatly empower the diplomatic process" between Iran and the P 5 +1 if the IAEA is able to secure the ability to conduct a "rigorous" investigation into allegations of nuclear weapons work. With such a safeguard, the United Nations Security Council might be willing to allow Iran to continue enriching uranium, Reuters reports.
So far, that seems unlikely. Amano said yesterday that Iran was not giving the IAEA what it needed in order to provide "credible assurance about the absence of undeclared nuclear material and activities," according to Reuters.
CS Monitor