2,700 Syrians flee to Turkey in past 5 days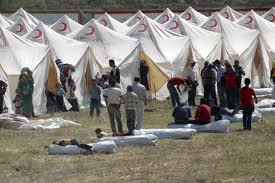 Almost 2,700 Syrians fled to Turkey during the first five days of June, a Turkish official said on Tuesday, as villagers reported that Syrian forces were setting wooded areas near the border ablaze to flush out rebels hiding there.
Most of the refugees have poured into Hatay, a southeastern Turkish province that juts into Syrian territory, and there are now close to 27,000 Syrians registered at camps, mostly set up in that province.
Villagers close to the border told Reuters that in the past few days Syrian soldiers had torched forested areas to destroy cover for armed insurgents suspected of operating there.
The Turkish official said the fires were across the border from the Turkish villages of Guvecci and Gorentas.
The sudden influx of refugees has coincided with mounting doubts over the fate of a peace plan drafted by international peace envoy Kofi Annan following the massacre of 108 people in the Houla area of Homs province on May 25.
Syrian rebels said on Monday they were no longer bound by the U.N.-backed truce as President Bashar al-Assad had failed to observe their deadline last Friday for observing the ceasefire, which Annan had proposed should take effect from April 12.
Foreign ministers from core members of the Friends of Syria, grouping Arab and Western countries, are expected to meet in Istanbul on Wednesday to discuss how to ramp up pressure on Assad to comply with the Annan plan.
Reuters