Lebanon FM: 2 Lebanese killed in Nigeria plane crash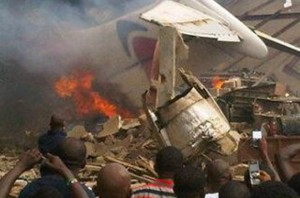 Foreign Minister Adnan Mansour officially confirmed on Monday that two Lebanese were killed in the plane crash in Nigeria's largest city on Sunday .
The victims were identified as Roger Awad and Nadine Chidiac
Awad was a contractor, and Chidiac an engineer Mansour told Voice of Lebanon
Mansour did not confirm if the bodies would be transported to Lebanon for burial.
Nigeria's aviation ministry said Sunday that 147 people were aboard a Dana Airlines passenger jet that crashed into a two-story building in Lagos, the country's largest city. "I don't believe there are any survivors," said Harold Denuren, Nigeria's director of aviation.
The plane was heading from Abuja, the capital, to Lagos when it went down about 3:30 p.m. local time (10:30 a.m. ET), The Sun newspaper of Lagos reported. It crashed into a building and split into two before burning up, witnesses said.