Karami wants to send Geagea back to jail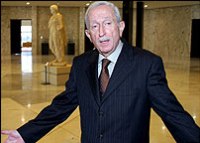 Former PM Omar Karami urged the parliament on Friday to reconsider the amnesty law that paved the way for the release of Lebanese Forces (LF) leader Samir Geagea from jail in 2005.
Karami was speaking during a press conference on the occasion marking the assassination of his brother, former Prime Minister Rashid Karami, who was killed on June 1, 1987 in North Lebanon.
Geagea was blamed for the murder in the 1990s and sentenced to death. However, the LF leader was released in 2005 following the withdrawal of the Syrian troops from Lebanon
" The parliament needs to reconsider the amnesty law it issued about Rashid Karami's murderer, Samir Geagea," Omar Karami said.
Now lebanon