Hezbollah urges kidnappers to free Lebanese hostages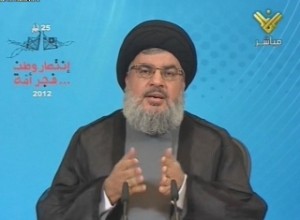 Sayyed Hassan Nasrallah, leader of Lebanon's Shi'ite Hezbollah group, on Friday urged the kidnappers of a group of Lebanese Shi'ites in Syria to release them, saying they were "innocent civilians".
"If you have a problem with me, there are many ways we can solve it and on many levels. If you want war we can solve it with war, if you want peace then we can solve it in peace," he said.
The group of about a dozen Lebanese men were on a bus that was stopped by gunmen as it crossed into northern Syria from Turkey on its way home from a pilgrimage to Iran. They released the women and kept the men.
The kidnappers issued a statement on Thursday in which they accused some of the hostages of participating in trying to put down their uprising against President Bashar al-Assad. They said negotiations for the men's release would not start until they receive an apology from Nasrallah, Assad's ally.
The kidnapping triggered protests in the southern suburbs of Beirut, a Hezbollah stronghold where the hostages live. Families and residents blocked roads and burned tyres.
Nasrallah appealed for calm and in a speech last week he said the kidnapping would not affect his group's support for Assad, whose ruling cadres are dominated by members of the Alawite sect, an offshoot of Shi'ite Islam.
Syrian rebels have accused Hezbollah of sending fighters to help Assad, a charge dismissed by Hezbollah.
On Thursday Lebanese Prime Minister Najib Mikati visited Turkey for talks with his Turkish counterpart Tayyip Erdogan on efforts to release the hostages.
Reuters