Syrian troops shell Houla, site of massacre
Syrian troops on Thursday shelled the country's central region of Houla where more than 100 people were massacred last week, activists said. At least one person was killed in the latest violence and scores fled in fear of more government attacks.
The Britain-based Syrian Observatory for Human Rights and the Local Coordination Committees activist groups said government troops unleashed heavy machine guns but also used mortars Thursday in Houla, a collection of poor farming villages in the central Homs province. Both groups said a young man was killed by sniper fire.
Survivors of the Houla massacre have blamed pro-regime gunmen for at least some of carnage that began Friday and left 108 people dead, many of them children and women. The Syrian government denied its troops were behind the killings and blamed "armed terrorists."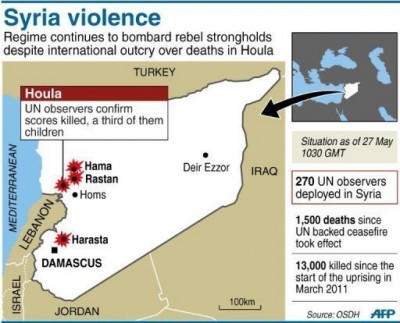 Activists from Houla said government forces on Friday first shelled the area after large demonstrations against the regime earlier in the day. That evening, they said, pro-regime fighters known as shabiha stormed the villages, gunning down men in the streets and stabbing women and children in their homes.
The Houla massacre was one of the deadliest incidents since the uprising against President Bashar Assad's regime started in March last year. The U.N. said several weeks ago that more than 9,000 people have been killed in the past 15 months while activists put the number at about 13,000.
The Observatory reported that Houla residents were fleeing Thursday to nearby towns and villages "fearing a new massacre."
In the wake of last week's massacre, the United States, Western and Asian nations expelled Syrian diplomats in protest.
In Istanbul, U.N. Secretary-General Ban Ki-moon on Thursday called on Syria to stop its attacks, saying U.N. observers monitoring the cease-fire were not there to watch the killings of innocent people.
Ban was speaking about the nearly 300 U.N. observers who were deployed around Syria to monitor a cease fire that went into effect on April 12, as part of an international peace plan negotiated by international envoy Kofi Annan. Despite the cease fire violence continued almost daily.
Meanwhile, a group of army defectors known as the Free Syrian Army warned the Syrian government on Thursday that if it does not abide by Annan's plan by ceasing fire and pulling out troops from residential areas by Friday noon, the group will defend the people.
"After that, the Free Syrian Army will not abide by the Annan plan … and will defend the civilians," said Col. Qassim Salaheddine in a statement posted on YouTube. Salaheddine identified himself as the FSA commander in Homs province.
Although the FSA claims that it has so far been abiding by Annan's plan, Syrian Deputy Foreign Minister Faisal Mekdad said gunmen have violated the cease-fire more than 3,500 times. There have been clashes over the past weeks between troops and army defectors in different areas around Syria.
Also Thursday, Syria's state-run TV said that 500 people who had got involved in recent events in Syria have been released from detention. The report gave no further details.
In Damascus, the Syria International Islamic Bank, or SIIB, criticized the latest sanctions imposed Wednesday by the Obama administration as "irrational and unjustified."
The Treasury Department said Wednesday that SIIB has been acting as a front for other Syrian financial institutions seeking to circumvent sanctions. The new penalties will prohibit the bank from engaging in financial transactions in the U.S. and will freeze any assets under U.S. jurisdiction.
SIIB said it would undertake all necessary measures toward the U.S. decision, saying it has no assets or accounts in the United States. It added that the bank, like other Syrian banks, halted all banking operations with the dollar since U.S. sanctions were first imposed on Syria.
With the Obama administration unwilling at this point to pursue military options in Syria, the U.S. has relied heavily on economic sanctions as a means for pressing Assad to leave power. The United States will host other nations in Washington next week to look at ways to tighten international sanctions further.
World powers share a belief that Syria could descend into civil war and plan to map out possible ways to avoid such a disaster for the region, a deputy for Annan said Wednesday. Jean-Marie Guehenno told reporters after privately briefing the U.N. Security Council, the world body's most powerful unit, that diplomats are deeply troubled by Syria's cycle of violence.
Earlier Wednesday, Iranian Parliament Speaker Ali Larijani warned the West about military intervention in Syria along the lines of NATO's campaign that helped ouster Moammar Gadhafi after the alliance backed the rebel movement in the eastern Libyan city of Benghazi.
"Creating another Benghazi in Syria will impact Palestine and the ashes of this fire will cover the Zionist regime, definitely," he said using the phrase commonly used by Iranian officials to refer to Israel.
The Associated Press