Iran's Rafsanjani praises Facebook, calls it a blessing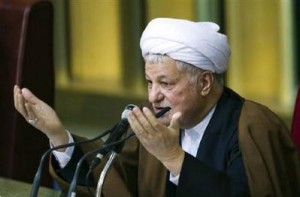 Facebook is a "blessing" that helps freedom-seeking movements challenge tyranny, a former president of Iran — which routinely blocks access to the social networking site — was quoted as saying in a report by the ISNA news agency.
"We see that a Facebook page costing nothing can outstrip several television and radio outlets, and can influence millions of people," said Akbar Hashemi Rafsanjani, according to ISNA report published on Tuesday and relayed by several newspapers and online sites since.
"Or a video clip captured by a mobile phone goes viral and is seen by the world. This, in my opinion, is a blessing," Rafsanjani, who now chairs an advisory body to Iran's supreme leader Ayatollah Ali Khamenei, was quoted as saying.
Iran systematically blocks Internet access to Facebook as part of a strict censorship of online content. The popular video-sharing site YouTube, non-English Google sites and millions of foreign media pages are also barred.
But many web users in Iran — half of whose 75-million strong population is connected — have found ways around the blocks, by using software known as a Virtual Private Network (VPN). The sale of VPNs in Iran is illegal.
Rafsanjani, who espoused relatively moderate principles during his 1989-1997 period as president, explained his argument in favour of loosening access to the Internet and satellite channels by saying: "If we try to stop one (method), 10 others will pop up in their place. People cannot be stopped in their pursuit of information."
He said that some in Iran's regime may "dislike" that, "but if we think about the happiness of human beings, we see that if social media did not exist, movements against tyranny and oppression would be endangered."
The Islamic republic's strangling of the Internet has intensified since current President Mahmoud Ahmadinejad was returned to office in disputed 2009 elections that sparked a wave of anti-government protests mostly organised online.
Rafsanjani now chairs Iran's Expediency Council and is tasked with providing counsel to Khamenei.
He is seen as a pragmatic voice in the regime, but has lost much of his influence to hardliners who hold sway over the parliament and military.
AFP