Syrians release one Lebanese, detain 2 more , update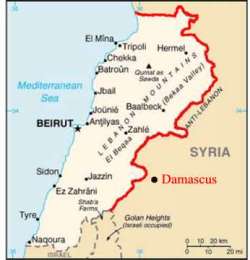 Syrian security forces released on Wednesday a Lebanese national who was detained on Sunday along the Lebanese-Syrian border, National News Agency reported and LBC reported that the Syrian forces detained two Lebanese nationals in the Lebanese border town of Abboudiyeh. No further information was available in the LBC report.
The NNA report added that the freed detainee, identified as Nasir Arabi, had been kidnapped and arrested by Syrian forces in the Lebanese town of Kafarqouq in the Rashaya district.
Arabi was reportedly attempting to smuggle cigarettes into Syria.
The current Lebanese government is dominated by Hezbollah , a staunch supporter of the embattled Syrian regime.
The Syrian security forces have been violating the Lebanese borders on almost daily basis . Several Lebanese have been killed inside the Lebanese borders by the Syrian security forces during the past few months.
Update : National News Agency reported that the two men that were arrested by the Syrian forces were identified as Mohammad Yassin al-Mouraabi and Mahdi Hamdan.
They were abducted while working on an farm in Lebanon and were taken to Syria
Their arrest sparked unrest at the Lebanese Syrian borders, AFP quoted a Lebanese official as saying adding that residents blocked the main road leading to Syria with rocks and burnt tires.
Some of the protesters are reportedly armed
No reason was give for their detention