SNC: Russia encouraging Assad to commit more crimes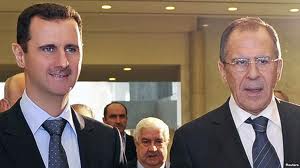 The Syrian National Council , the main opposition coalition said on Wednesday that Russia's position on the Syrian crisis is encouraging the regime of President Bashar al-Assad to commit "savage crimes," a possible reference to the Houla massacre in which 108 were killed including 34 women and 49 children
"Russia has chosen to join ranks with the Syrian regime and to provide it with political cover … encouraging it to continue committing savage crimes that target civilians, including women and children," SNC said.
The SNC condemned Russia for "trying to prevent an international condemnation" from being issued against Assad's regime.
The Russian stance and the "weapons the Russian government has given the Syrian regime … has turned Moscow into an accomplice with the regime in an attempt to spark a civil war," making it impossible for Syria's Soviet-era ally to be a genuine partner in the political process to end the crisis.
Russia should instead "join the ranks of the friends of the Syrian people," the statement said, adding that by "covering for the crime," it had to bear part of the "moral and legal responsibility."
AFP