Assad links Annan's peace plan to " end of terrorism"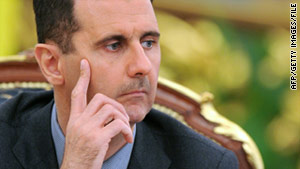 Syrian President Bashar al-Assad told the UN-Arab League envoy Kofi Annan that the success of the six-point peace plan depends on "the end of terrorism, state television reported on Tuesday
"The success of the Annan plan depends on the end of terrorist acts and those who support them and the smuggling of weapons," Assad said adding that States that "harbor and arm terrorist groups" should comply with the Annan plan
Damascus has denied responsibility for the Houla massacre, blaming foreign-funded "terrorist groups" instead.
In his meeting with Assad on Tuesday, Annan who arrived on Monday conveyed "the grave concern of the international community about the violence in Syria, including in particular the recent events in Houla," his office said.
"He conveyed in frank terms his view to President Assad that the six-point plan cannot succeed without bold steps to stop the violence and release detainees, and stressed the importance of full implementation of the plan."
France, Britain, Canada, Germany, Italy, Spain and Australia said they were expelling the Syrian envoys from their capitals in a move that was coordinated with the United States and underlined Assad's diplomatic isolation.
The killings in Houla drew a chorus of powerful condemnation from around the world, with the United Nations saying entire families had been shot dead in their homes.
"Bashar al-Assad is the murderer of his people," French Foreign Minister Laurent Fabius told Le Monde. "He must relinquish power. The sooner the better." His Australian counterpart Bob Carr said: "This massacre of more than 100 men, women and children in Houla was a hideous and brutal crime."
AFP/ Reuters