Annan warns Assad and west expels Syria envoys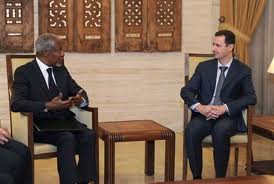 Peace envoy Kofi Annan expressed "grave concern" to Syria's President Bashar al-Assad on Tuesday and Western nations threw out its envoys to protest against a massacre of 108 civilians, many of them children, in the town of Houla.
France, Britain, Canada, Germany, Italy, Spain and Australia said they were expelling the Syrian envoys from their capitals in a move that was coordinated with the United States and underlined Assad's diplomatic isolation.
The killings in Houla drew a chorus of powerful condemnation from around the world, with the United Nations saying entire families had been shot dead in their homes.
"Bashar al-Assad is the murderer of his people," French Foreign Minister Laurent Fabius told Le Monde. "He must relinquish power. The sooner the better." His Australian counterpart Bob Carr said: "This massacre of more than 100 men, women and children in Houla was a hideous and brutal crime."
Assad's government late on Monday denied having anything to do with the deaths, or even having heavy weapons in the area.
Western countries that have called for Assad to step down were hoping that the Houla killings would tip global opinion, notably that of Syria's main protector Russia, towards more effective action against Damascus.
Annan drew up a peace plan backed by the United Nations and the Arab League to steer a way out of the 14-month-old uprising against Assad. But six weeks after it was agreed by Damascus and the rebels, the bloodshed has barely slowed.
Annan told Assad of the "grave concern of the international community about the violence in Syria, including in particular the recent events in Houla", his spokesman Ahmad Fawzi said in a statement after two hours of talks in Damascus.
"He conveyed in frank terms his view to President Assad that the six-point plan cannot succeed without bold steps to stop the violence and release detainees, and stressed the importance of full implementation of the plan."
"HIDEOUS CRIME"
Carr said Syria's expelled charge d'affaires in Canberra was told to "convey a clear message to Damascus that Australians are appalled by this massacre and we will pursue a unified international response to hold those responsible to account".
Germany Foreign Minister Guido Westerwelle urged the U.N. Security Council to revisit the situation in Syria.
The U.N. human rights office in Geneva said fewer than 20 of the 108 dead in Houla were killed by artillery and tank fire – weaponry that lightly-armed rebels do not have in their arsenal.
Survivors told U.N. investigators that most of the others had been shot by pro-Assad shabbiha militia, who in the past have intimidated and assaulted hotbeds of opposition to Assad.
"Almost half of the ones we know of so far are children – that is totally unpardonable – and a very large number of women as well," said spokesman Rupert Colville. "At this point, it looks like entire families were shot in their houses."
The report contradicted an open letter sent by Syria to the U.N. Security Council on Monday saying: "Not a single tank entered the region and the Syrian army was in a state of self-defense …
"The terrorist armed groups … entered with the purpose of killing and the best proof of that is the killing by knives, which is the signature of terrorist groups who massacre according to the Islamist way."
Gruesome video footage distributed by opposition activists has helped to shake world opinion out of growing indifference to a conflict in which more than 10,000 have been killed.
RUSSIA SAYS BLAME SHARED
But Russia, which with China has twice vetoed U.N. Security Council resolutions on Syria but on Sunday backed a non-binding Council text criticizing the use of artillery and tanks in Houla, insists that rebels share the blame for the massacre.
Russia long saw Assad's late father as the best defender of its interests in the region, and leases a major naval base in Syria. It has suggested that foreign countries are undermining Annan's plan by supporting the opposition.
"We are alarmed that some countries … are starting to use this event as an excuse to put forth demands of the need for military action in an attempt to put pressure on the U.N. Security Council," Russian Foreign Minister Sergei Lavrov told journalists in Moscow.
"We are troubled by the ceaseless attempts to frustrate Kofi Annan's peace plan."
Syrian Deputy Foreign Minister Faisal Mekdad told reporters in Damascus late on Monday: "Syria has not committed a single violation of Annan's plan or the initial understanding between Syria and the United Nations.
"At the same time, the other party has not committed to a single point. This means that there is a decision by the armed groups and the opposition not to implement Annan's plan and to make it fail."
He said he expected Annan to pressure the foreign states backing what Syria describes as a "terrorist" conspiracy funded abroad.
Sunni Muslim Gulf powers Saudi Arabia and Qatar favor arming the mostly-Sunni rebels fighting Assad, whose ruling cadre are mostly Alawites, members of an offshoot of Shi'ite Islam.
Reuters