Assad, circles could be charged with crimes, report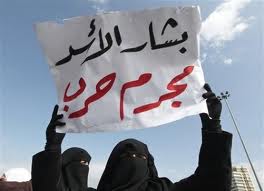 As outrage grows over the Houla massacre, Channel 4 News's Foreign Affairs Correspondent Jonathan Miller considers evidence of President Assad's personal responsibility for crimes against humanity.
Fresh evidence has emerged that members of President Bashar al-Assad's family and inner circle are directly ordering the commission of crimes against humanity in Syria.
Experts in international law consider it "preposterous and completely implausible" that Assad himself would be unaware of the systematic and widespread killing and torture.
The massacre of nearly 100 people in the village of Houla, near Homs on Friday – in which 32 children were killed – has triggered widespread revulsion and prompted renewed calls for accountability.
The Foreign Secretary, William Hague, has said that the bloodbath warrants what he called "a strong response".
"Our urgent priority is to establish a full account of this appallng crime and move swiftly to ensure that those responsible are identified and held to account," Mr Hague said.
On Sunday the Syrian government denied its forces were responsible for the atrocity. Foreign ministry spokesman Jihad Makdesi said: "We firmly deny the responsibility of government forces in this massacre that has occurred. We strongly condemn this terrorist massacre that targeted in a clearly criminal way Syria's people: women, children and old men."
A Channel 4 Dispatches investigation, The Real Mr & Mrs Assad, to be broadcast on Monday, reveals new evidence implicating top commanders, clansmen and henchmen of the Syrian president himself, making his future prosecution on charges of crimes against humanity a realistic prospect, according to legal experts.
William Schabas, Professor of International Criminal Law at Middlesex University, says that while there is no "smoking gun" linking President Assad directly to the commission of crimes, he can be held to account using the doctrine of Command Responsibility.
"We can hold him responsible," Schabus says, "even if we can't prove that he actually ordered the crimes. Whether he is a micro-manager of atrocity, or whether he's a macro-manager, it doesn't actually make much difference.
"Hitler was a macro-manager. There is very little evidence of Hitler ordering direct atrocities to be perpetrated. Does anyone have any doubt that Hitler wasn't in charge? I don't think so. And I think that this is a similar case."
Shoot-to-kill allegations
Defectors from Syrian intelligence and security agencies, used by the regime to crush the 14-month-long revolt, told Dispatches that the President's cousin issued "shoot-to-kill" orders against civilian protestors in Deraa, the cradle of the insurrection, in April last year. "Kill quotas" were reportedly issued to snipers tasked with assassinating pro-democracy activists.
It is also alleged that Assad's brother Maher, a senior army commander, was among senior figures operating out of a secret command centre in Deraa when orders were issued to contain a protest march by all means necessary. More than 100 civilians were shot dead. Maher is also accused of ordering the indiscriminate mass-punishment of the entire male population of a troublesome town, al-Moudamya, later the same month.
In addition to the defectors' eye-witness testimony, the Dispatches documentary will screen footage, not seen before in the UK, of Assad and his London-born wife, Asma, relaxing and joking together in 2009.
In it, the President, probably never imagining the current turn of events, says: "Every mistake [that] happens in this government, you are responsible, not somebody else. Not the minister. Not the Prime Minister. At the end you should be responsible." He was clearly referring to himself. In more recent months, Assad has repeatedly denied any role in the killings.
"No one is authorised to give orders to the security forces except for him," says exiled former Syrian Vice-President Abdul Halim Khaddam, who fell out with Assad in 2005, having served under both him and his father. Speaking in Paris, where he now lives, Khaddam says: "Will anyone believe that 300,000 soliders can come out of their barracks to slaughter citizens due to an initiative by their officers? These orders are issued by the President of the state."
Shopping while Homs burned
Emails first published by the Guardian in March revealed that the President was kept personally informed about military deployments in the city of Homs, where an estimated 4,000 died during weeks of relentless bombardment. At the same time the First Lady, whose family is from Homs, was revealed to be shopping online for high heels and handmade furniture in the boutiques of London and Paris.
The documentary futher examines emails from the same cache which indicate that the Assads were aware of the arrest of individuals as part of the crackdown. In two separate cases, they appear to have personally intervened to secure the release of detainees.
The eyewitness testimony from security force defectors also details allegations against Brigadier-General Atef Najib, Assad's cousin, who headed the Political Security directorate in Deraa at the start of the uprising. Two separate defectors independently claim to have received direct orders from Najib to fire live ammunition at demonstrators.
"Clearly this decision was made very high up," says Dr Anna Neistat, an experienced investigator with Human Rights Watch and expert in the command and control structure of the Syrian armed forces. "He is the President's cousin. I think there was clearly awareness that something he did was bad enough that it could lead to a major revolt."
Another defector, Afaq Ahmed, a former member of the Special Operations directorate of the Air Force Intelligence branch, claims that a later killing spre, in which 100 protestors were shot dead was approved by the head of Air Force Intelligence. He was allegedly based in a secret command centre in the al-Kuwait Hotel on the city's eastern outskirts.
It is understood that Maher al-Assad was one of the members of his brother's inner-circle who had decamped to Deraa and had based themselves in this command centre. The European Union describes Maher al-Assad as "the principal overseer of violence against demonstrators".
Afaq Ahmed talked of "kill quotas", saying: "Our task was restricted to assassinating activists and protestors based on orders and the permitted killing quota authorised by the authorities. The quota varied. Some days it was 10, others 15 or 20."
Dr Neistat said: "There does appear to be a policy on how to crack down on the protests. We interviewed one of the snipers… and he said that before the protest they were given a specific percentage – essentially a quota – on how many people, in relation to the overall number of protesters in the streets, they were allowed to take down."
Any future prosecution of Assad on charges of crimes against humanity must be unanimously referred by the United National Security Council to the International Criminal Court – as happened in the case of Libya, last year. At present, this is considered unlikely, owing to the likelihood of a Russian and Chinese veto. But the British government, among others, is assisting in the gathering of evidence which could one day be used in court.
Channel 4