Cows Crash a party and drink up all the beer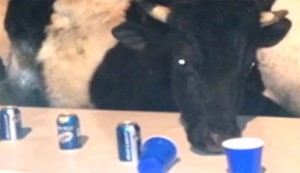 Massachusetts police responding to a call from a neighborhood party found out that they had, very literally, some wild animals on their hands.
Police in Boxford, Mass., arrived at the scene of a backyard party on Sunday night to find six cows helping themselves to a table full of beer.
The cans of beer were left behind by the 12 or 13 young adult females who had been enjoying their Sunday night when the cows crashed their party in Boxford, a Boston suburb with a population of nearly 8,000, according to police.
"I could hear them [the partygoers] screaming in the backyard and I hoped they weren't getting trampled," Lt. James Riter told WickedLocal Boxford, which first reported the story.
"I saw one cow drinking the beer on its way down as it spilled off the table," he told the site.  "Some of the cows were also picking through the empties in the recycling bin.  They just went in and helped themselves."
Lt. Riter was first put on the cows' trail around 9 p.m. when the department received a call that six cows were loose in the rural town's Main Street area.  Riter and his partner, officer Joseph Borodawka, drove behind the cows in their cruiser. But that sent the cows off the main road and into the surprised partygoers' path.
"The young women were absolutely in shock," Ritter told WickedLocal Boxford.
Also involved in the cow chase was the town's selectman, Peter Perkins, who lives near the farm from where the cow escaped.  He heard the commotion on the police scanner and jumped in his car with his wife and the cow's owner to retrieve them.
"Because the cows were having such a good time at the [party] house, it was hard to get them to leave," Perkins said. "Once we got them started, there was a lot of hollering and yelling to keep them moving. We had a cruiser positioned at the front and back of the cows."
One hour later, the cows were safely back at home, party over, according to police.