U.N. observers arrive in Al-Houla after massacre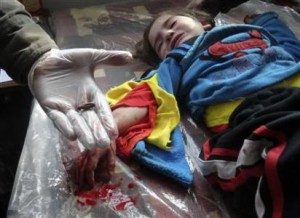 U.N. observers have arrived in a region where activists said at least 100 people were killed by government troops, an NGO and the Syrian Revolution Council said on Saturday.
Meanwhile, Syria's main opposition bloc urged the U.N. Security Council on Saturday to convene an emergency meeting to examine what it called an army massacre near Homs, where it said 110 people were killed.
"More than 110 people were killed (half of whom are children) by the Syrian regime's forces" in the village of Houla, the Syrian National Council said in a statement.
"Some of the victims were hit by heavy artillery while others, entire families, were massacred," said the statement by Bassma Kodmani, the council's head of foreign relations.
The toll of 110 victims was double that given by the London-based Syrian Observatory for Human Rights, which said that more than 50 civilians, including 13 children, died in the army shelling of Houla.
The Syrian National Council (SNC ) in its statement urged the U.N. Security Council "to call for an emergency meeting to examine the situation… and to determine the responsibility of the United Nations in face of such mass killings, expulsions and forced migration from entire neighborhoods."
Rami Abdel Rahman, head of the Syrian Observatory while giving the lower death toll, agreed that this was "a real massacre" and complained that "U.N. observers are just staying silent" on the matter.
U.N. chief blames Syrian regime
Meanwhile, Secretary-General Ban Ki-moon blamed the Syrian government on Friday for much of the "unacceptable levels of violence and abuses" occurring every day in violation of a U.N.-backed peace plan.
In a report to the U.N. Security Council obtained by the Associated Press, Ban cited the government's continuing use of heavy weapons, reports of shelling and "a stepped-up security crackdown by the authorities that has led to massive violations of human rights by government forces and pro-government militias."
Ban lamented that there has been only "small progress" on implementing the six-point plan brokered by international envoy Kofi Annan, who is scheduled to brief the Security Council on Wednesday. Ban called on the government to keep its pledge to immediately stop the violence, pull heavy weapons and troops out of populated areas, allow humanitarian workers to help needy civilians and end human rights abuses.
Meanwhile, France condemned the "massacre" and called for greater international action, Foreign Minister Laurent Fabius said on Saturday.
"I am making immediate arrangements for a Friends of Syria group meeting in Paris," Fabius said in a statement in the wake of Friday's attacks on the town in a new violation of a ceasefire.
Ban tells opposition to stop violence
Ban also called on all elements of the opposition to stop the violence and respect human rights.
He said "there have been an alarming number of explosions in population centers, including acts of terrorism," making it more imperative that all parties stop violence "to re-establish law and order," thus limiting any space for outside groups to take advantage of the situation.
The secretary-general said 271 of the 300 unarmed U.N. military observers authorized by the Security Council to help end the 15-month conflict are on the ground, and their deployment in key cities "appears to be having a calming effect."
Nonetheless, he said, "the overall level of violence in the country remains quite high" with daily incidents causing a large number of deaths and injuries, though at a lower scale than immediately before April 12 when a cease-fire was supposed to take effect.
"While the international effort is making some impact on the ground, unacceptable levels of violence and abuses are continuing in violation of … the six-point plan," Ban said.
Although the goal of Annan's plan is to persuade the government and opposition to sit down and negotiate "no credible political process can take hold if the perception exists in a significant part of the population that its basic human rights are abused," he said.
Ban added that the situation "poses serious challenges" for the U.N. mission and the observers, who have been threatened and targeted, with their vehicles damaged and their movements restricted by crowds.
More than 12,600 people, the majority of them civilians, have died since the Syrian uprising began, according to the London-based Observatory, including nearly 1,500 since a putative U.N.-backed truce took effect April 12.
Al Arabiya
Photo: A doctor displays a bullet removed from the hand of a young girl . Syrian Revolution Council urged the U.N. Security Council on Saturday to convene an emergency meeting to examine what it called an army massacre near Homs, where it said 110 people were killed