Pope's butler arrested for leaking Vatican files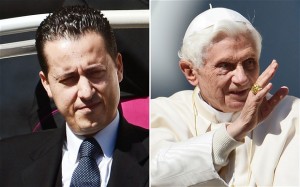 Vatican police have arrested Pope Benedict XVI's butler for allegedly leaking confidential documents and letters detailing claims of corruption, mismanagement and conflict in the Holy See, according to news reports from Italy.
Paolo Gabriele, 46, has worked in the papal household since 2006. He was not named in the Vatican's announcement, but Italian media confirmed his identity through sources. The BBC has a profile of Gabriele, who lives with his wife and three sons in an apartment close to the Vatican walls.
Spokesman Father Federico Lombardi said Vatican police found several classified documents in the suspect's quarters.
The New York Times has more details of the scandal, dubbed "Vatileaks."
If convicted by a Vatican court, Gabriele faces up to 30 years in prison for violating the privacy of the Pope's correspondence, which the Italian news agency AGI writes is "tantamount to that of a Head of State and therefore a violation of state security."
AGI, quickly adds, however, that "the picture emerging in recent hours is that a fanatic may be behind the crime and this would lead to different legal actions," such as trial in an Italian court.
The butler's arrest in the case dubbed "Vatileaks" came the same day the president of the Vatican Bank was fired for alleged mismanagement.
The National Catholic Register, which has details from Italian media accounts, notes the scandal has a U.S. angle:
A series of confidential documents and letters began appearing in the Italian media at the beginning of the year, each describing alleged corruption, mismanagement and internal conflicts within the Holy See.
One contained personal letters to Pope Benedict XVI alleging corruption and written by the current apostolic nuncio to the United States, Archbishop Carlo Maria Viganò, when he was deputy head of Vatican city state last year. The allegations of mismanagement and cronyism were firmly denied by Archbishop Viganò's superior at the time, Cardinal Giovanni Lajolo.
In response to the leaks, Pope Benedict appointed Spanish Cardinal Julian Herranz to head a commission of three cardinals to investigate their source.
Thursday night, Herranz told the Catholic News Agency the leaks were "confusing souls and also giving the Church and the Holy See a completely unfair image."
USA today