Iran Is Seeking Lebanon Stake as Syria Totters
TANNOURINE, Lebanon — The Islamic republic of Iran recently offered to build a dam in this scenic alpine village, high in the Christian heartland of Lebanon.
Farther south, in the dense suburbs of Beirut, Iranian largess helped to rebuild neighborhoods flattened six years ago by Israeli bombs — an achievement that was commemorated this month with a rollicking celebration.
"By the same means that we got weapons and other stuff, money came as well," the Hezbollah leader, Hassan Nasrallah, exclaimed to roars of approval from the crowd. "All of this has been achieved through Iranian money!"
Iran's eagerness to shower money on Lebanon when its own finances are being squeezed by sanctions is the latest indication of just how worried Tehran is at the prospect that Syria's leader, Bashar al-Assad, could fall. Iran relies on Syria as its bridge to the Arab world, and as a crucial strategic partner in confronting Israel. But the Arab revolts have shaken Tehran's calculations, with Mr. Assad unable to vanquish an uprising that is in its 15th month.
Iran's ardent courtship of the Lebanese government indicates that Tehran is scrambling to find a replacement for its closest Arab ally, politicians, diplomats and analysts say. It is not only financing public projects, but also seeking to forge closer ties through cultural, military and economic agreements.
The challenge for Iran's leaders is that many Lebanese — including the residents of Tannourine, the site of the proposed hydroelectric dam — squirm in that embrace. They see Iran's gestures not as a show of good will, but as a stealth cultural and military colonization.
"Tannourine is not Tehran," groused Charbel Komair, a city council member.
The Lebanese have largely accepted that Iran serves as Hezbollah's main patron for everything from missiles to dairy cows. But branching out beyond the Shiites of Hezbollah is another matter.
"They are trying to reinforce their base in Lebanon to face any eventual collapse of the regime in Syria," said Marwan Hamade, a Druse leader and Parliament member, noting that a collapse would sever the "umbilical cord" through which Iran supplied Hezbollah and gained largely unfettered access to Lebanon for decades.
"Hezbollah has developed into being a beachhead of Iranian influence not only in Lebanon, but on the Mediterranean — trying to spread Iranian culture, Iranian political domination and now an Iranian economic presence," Mr. Hamade said. "But there is a kind of Lebanese rejection of too much Iranian involvement here."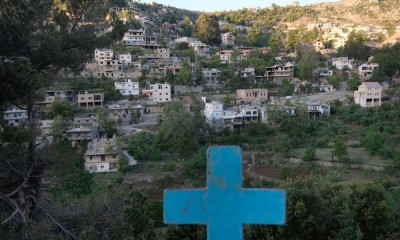 That has not stopped Iran from trying. Mohammad-Reza Rahimi, Iran's first vice president, arrived in Beirut a couple of weeks ago with at least a dozen proposals for Iranian-financed projects tucked under his arm, one for virtually every ministry, Lebanese officials said. The size of the Iranian delegation — more than 100 members — shocked government officials. Lebanese newspapers gleefully reported embarrassing details of the wooing; in their haste to repeat their success in forging closer ties with Iraq, for example, the Iranians forgot to replace the word Baghdad with Beirut in one draft agreement.
Iran offered to build the infrastructure needed to carry electricity across Iraq and Syria into Lebanon. It offered to underwrite Persian-language courses at Lebanon's public university. Other proposals touched on trade, development, hospitals, roads, schools and, of course, the Balaa Dam in Tannourine.
Yet virtually no substantial new agreements were signed. The Iranian ambassador, Ghazanfar Roknabadi, reacted like a spurned suitor, grumbling publicly that Lebanon needed to do more to carry out agreements. The embassy here rejected a request for an interview, but Iran's state-run Press TV quoted Mr. Roknabadi as saying, "The Iranian nation offers its achievements and progress to the oppressed and Muslim nations of the region."
Therein lies the rub. Syria, run by a nominally Shiite Muslim sect, fostered its alliance with Iran as a counterweight to Sunni Muslim powers like Saudi Arabia. The alliance was built more on confronting the West and its allies than on any sectarian sympathies.
In Lebanon, a nation of various religious sects, many interpret Iran's reference to "Muslim" as solely "Shiite Muslim." Hezbollah insists that that is not the case and that the money comes with no strings attached and is for the good for all Lebanese.
"The Iranians say, 'If you want factories, I am ready, if you want some electricity, I am ready,' and they do not ask for any price in return," said Hassan Jishi, the general manager of Waad, the organization that rebuilt the southern suburbs. (The name means "promise" in Arabic, referring to Mr. Nasrallah's promise to reconstruct the area.) It cost $400 million to build apartments and stores for about 20,000 people, Mr. Jishi said.
Half the money came from Iran, Mr. Nasrallah said in his speech, adding that he had telephoned the country's supreme leader, Ayatollah Ali Khamenei, to ask for reconstruction aid even before the August 2006 cease-fire with Israel. Both Ayatollah Khamenei and President Mahmoud Ahmadinejad responded generously, he said.
"We owe a special thanks to the leaders of the Islamic republic of Iran, to the government, to the people, because without Iranian funding, we could not even have begun to achieve what we did," Mr. Nasrallah said.
In the southern suburbs, what was once a jumble of haphazard construction is now neat rows of handsome tangerine-and-rose-colored apartment blocks with elevators, generators and parking. But anarchic power lines still crisscross the streets like so many cobwebs, because the electricity supply remains hit-or-miss. Lebanon suffers from a chronic shortage of electricity, generating just 1,500 megawatts against a peak summer demand of 2,500 megawatts.
Iran's project to finance the dam appeared to be aimed at addressing such problems — and winning hearts and minds by meeting a need the government has so far failed to address.
Here in Tannourine, the sound of rushing water ricochets off the high valley walls, riven with caves where the first Christian monks sought sanctuary from prosecution centuries ago. Restaurants built over the Joze River draw a weekend crowd from Beirut, 45 miles south, for long lunches of meze and shish kebab washed down with smooth, locally made arrack. Local springs also feed one of Lebanon's most popular bottled-water brands, called Tannourine.
The idea of a dam proved popular among the 35,000 inhabitants because it would both generate electricity and provide for irrigation, said its mayor, Mounir Torbay.
The dam was included in Lebanon's 2012 budget and the contract was awarded to a Lebanese company, the mayor said. Then it got embroiled in local politics.
A prominent Christian politician trying to one-up his rivals asked the Islamic republic for $40 million for the dam, and Iran agreed last December, provided an Iranian company built it. Most of the solidly Christian area's population was horrified by the prospect that the Iranians would move in, said Mr. Torbay, most likely bringing their mosques, their wives and perhaps even their missiles. Many suspect that some company with links to the Islamic Revolutionary Guards Corps will get the contract.
Thanks but no thanks
"We want the dam badly, but we don't want an Iranian company to build it," the mayor said. "They are from a different religion, a different social condition."
There are still about 70 churches in Tannourine, with 22 dedicated to the Virgin Mary, and most Christians feel that their culture and tradition face enough of a threat already throughout the Middle East, residents said.
"One of the dreams of Iran is to gain a foothold over the mountains," the mayor said. "It is important for them to oversee the Mediterranean. So Lebanon is a full part of their strategy."
The fate of the project remains uncertain. The cabinet is inclined to accept the $40 million, not least because most foreign aid has dried up since a Hezbollah-dominated alliance formed the government last year.
As to Iranian plans to prevail in Lebanon, many Lebanese point out that the Christians and Sunni Muslims have failed at that endeavor before.
"I think the Iranian project to control Lebanon is a candidate for failure, too," said Sejaan M. Azzi, vice president of the Lebanese Forces, a political party and once a Christian militia. "We don't have confidence in Iranian economic aid; we consider it part of a political, security, military project."
NY times