Fire on a U.S. nuclear submarine injures 4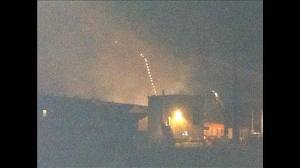 A fire was burning Wednesday evening on a nuclear submarine docked at a U.S. Navy shipyard in Maine, and four people were injured, authorities said.
The USS Miami's reactor was not operating at the time and was not affected, according to Gary Hildreth, a public affairs officer for the Portsmouth Naval Shipyard in Kittery.
Navy spokesperson Lt. Myers Vasquez said the attack sub was in dry dock for regularly scheduled maintenance when the fire started.
It is capable of carrying Tomahawk cruise missiles and Mark 48 torpedoes, but no weapons were on board, Vasquez said.
State, local, and federal authorities were notified of the incident.
Fire crews responded at 5:41 p.m. to a report of a fire in the forward compartment of the Miami.
Four people were injured , Hildreth said. One was treated and released at the scene. Three people were taken to a medical facility and later released.
The USS Miami is a fast-attack submarine of the Los Angeles class, according to Vasquez.
According to Hildreth, Portsmouth Naval Shipyard was established on June 12, 1800, and is the oldest continuously operating shipyard operated by the Navy.
CNN