Assad's brother-in-law Assef Shawkat buried, report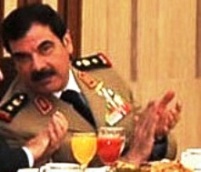 According to anti-Syrian regime activists,  President Bashar al-Assad's brother-in-law  Assef Shawkat who was  Syria's deputy defense minister  was   buried on Wednesday in his hometown, which they identified as Madhale, near the Mediterranean coastal city of Tartous.
Several activists quoted by Saudi-owned Al-Arabiya television said black flags were flying in Madhale in mourning.
On their Syrian Revolution Facebook page, online anti-regime activists wrote that: "Assef Shawkat is being buried right now in his home town Madhale … God curse him. He was poisoned."
They said Shawkat's body was transported to a hospital near his hometown that was emptied of patients on Tuesday evening.
Speculation over Shawkat's fate first emerged on May 20 when Al-Jazeera and Al-Arabiya television broadcast an amateur video showing a man claiming responsibility on behalf of a rebel group for killing six regime stalwarts.
They included Shawkat, Interior Minister Mohammed al-Shaar, Defence Minister Daoud Rajha, national security chief Hisham Bakhtiar and Hassan Turkmeni, assistant to the vice president.
Turkmeni appeared on state television this week to dismiss the reports, while Shaar denied them in a telephone interview, accusing Al-Jazeera and Al-Arabiya of "lies and slander."
But Shawkat has not made any public appearance or personally denied the reports, though he rarely makes public statements.
Abdul Halim Khaddam , the former vice president of Syria confirmed that Assef Shawkat was been killed on 19 May, 2012
AFP