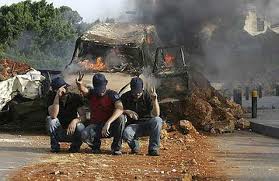 Angry Hezbollah supporters took to the street on Tuesday to protest against the abduction of the 13 Lebanese Shiite men in Syria, according to security officials, fueling concerns that Lebanon is getting drawn into the Syrian chaos.
They blocked many roads with burning tires, National News Agency reported on Tuesday.
The army has been able to reopen some of the roads . Here is a list of the roads that were affected
Salim Salam road in Beirut
Tayouneh road south of Beirut
Jlala-Zahle road in the Beqaa region
Beirut Airport Road
Hadath-Choueifat road south East of Beirut
Several roads in Hezbollah stronghold of Dhahia
Hezbollah Leader Sayyed Hassan Nasrallah has appealed for calm following the abduction of the Lebanese Shiites in Syria and former PM Saad Hariri condemned the abduction and called for their immediate release.
Me
anwhile , Free Syrian Army's Lieutenant Colonel Khaled Hamoud denied on Tuesday that the FSA kidnapped Lebanese Shiite men in Syria.
"We have nothing to do with the abduction of the 13 Lebanese men in Aleppo," Hammoud told Future News television, adding that the Syrian regime was "responsible for the kidnapping."