Jumblatt condemns the killing of the Muslim Cleric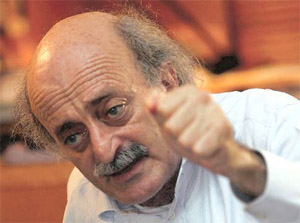 Progressive Socialist Party leader MP Walid Jumblatt condemned the killing of Sheikh Ahmad Abdel Wahid and called on Akkar residents not to fall into traps being set to them by the Syrian regime.
"During a phone conversation with former PM Saad Hariri, Jumblatt condemned the murder of Abdel Wahid and his bodyguard," a statement issued by the PSP's press office said.
The PSP leader also called for launching an "immediate investigation" to punish the perpetrators.
There are conflicting reports about the killing of Sheikh Abdel Wahid who was reportedly shot at a Lebanese army checkpoint in Kweikhat, Akkar as he was heading to the northern Lebanese town of Halba to participate in a rally. The sheikh's bodyguard, Mohammad Hussein Merheb, was also killed.
Residents of the northern village of Seer al-Donniyeh blocked the road near an army intelligence office to protest the murder of Sheikh Abdel Wahid, National News Agency reported on Sunday.
A number of young men also blocked the roads leading to Nahr Abu Ali roundabout in Tripoli using tires and steel barriers to protest the murder of Sheikh Abdel Wahid, National News Agency also reported on Sunday.
The incident sparked outrage within the Muslim Sunni community. The muftis and clerics of Akkar on Sunday stressed that they will not allow any side to stir a strife between citizens and the military institution and called for a general strike across Lebanon.
"We call for a general strike tomorrow across Lebanon and for three days of mourning over the slain sheikh," said a statement issued by Akkar's muftis and clerics