Geagea: Hezbollah training, arming Tripoli groups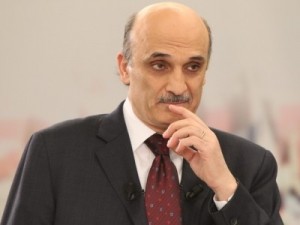 Lebanese Forces leader Samir Geagea accused Hezbollah of arming and training activities in Tripoli.
He was was quoted by his press office as saying on Friday in an interview with Al-Jadeed ( New) television station
"Hezbollah has been training and arming groups in Tripoli for seven months." He added:
"There are Sunni Islamic groups which are opposed to the Syrian regime, and there is Hezbollah and other [groups] which support the regime."
Commenting on the arrest of Lebanese citizen Shadi al-Mawlawi and its repercussion on the situation in Tripoli he described it as "the straw that broke the camel's back."
Commenting on the rumors concerning the presence of Al-Qaeda cells in Lebanon, the Lebanese Forces leader lashed out at the government of Prime Minister Najib Mikati and pointed the finger at Defense Minister Fayez Ghosn.
"We can understand the background of the events [in Tripoli] by [reading] the statements of a number of security officials and Defense Minister Fayez Ghosn."
"If [Al-Qaeda] really exists [in Lebanon], then why doesn't Ghosn take a decision to arrest its members," Geagea added.
He also said that the government should act in full responsibility regarding the crisis in the North.
Mawlawi's controversial arrest Saturday sparked clashes in Tripoli, north Lebanon, between opponents and supporters of Syrian President Bashar Assad, leaving at least 12 dead and over 100 wounded.
What outraged Mawlawi's supporters was the way he was tricked to be arrested… General Security personnel dressed in civilian clothes lured him to a social services center belonging to Finance Minister Mohammad Safadi with promises of medical care to his sister , only to arrest him.