Lebanon judge issues arrest warrant against Mawlawi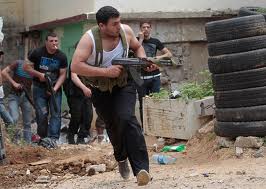 Military Investigative Judge Nabil Wehbi on Monday issued an arrest warrant against Lebanese national Shadi al-Mawlawi for "belonging to an armed terrorist group, National News Agency reported.
Mawlawi's arrest by General Security agents in Tripoli on Saturday had sparked three days of deadly violence in the northern capital
Wehbi also indicted two other men identified as Hamzeh Mahmoud Tarabay and Qatari national Abdel Aziz Attieh. The two were released on bail while Attieh was also banned from leaving Lebanon.
Wehbi is scheduled to interrogate three other suspects on Tuesday.
Wehbi's arrest warrant against Mawlawi comes after, state commissioner to the military court Judge Saqr Saqr charged Mawlawi with belonging to an "armed terrorist group " earlier on Monday
Mawlawi was arrested after luring him to Finance Minister Mohammad Safadi's Social Services Center under the pretext of granting him $500 benefit for his daughter who is being treated at a hospital in Tripoli.
About 100 young men blocked the northern and southern roads into Tripoli, demanding the release of Mawlawi.