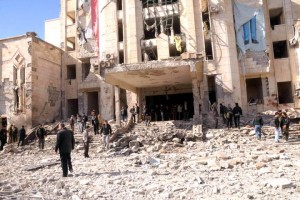 A powerful explosion has reportedly hit Syria's northern city of Aleppo, close to the ruling Baath party headquarters, hours after the army said it had thwarted a bomb plot.
"Initial details indicate that the Aleppo blast was targeting the local branch of the ruling Baath party and there is no information until now on the number of victims that fell in the explosion," said British-based Syrian Observatory for Human Rights.
Rami Abdel Rahman, of the Observatory said unidentified gunmen shot dead a guard outside the Baath party office as they drove by in a vehicle soon after the explosion.
"The blast was powerful but we do not know what was the origin of the explosion," said Abdel Rahman. "We can confirm one death – the guard of the Baath party office."
He said there was a chance that the explosion was caused by a sound bomb.
Earlier, state TV said the army foiled a would-be suicide attack a day after twin bombings in Damascus left scores dead.
Eleven people were killed across the country, in areas including central Hama and southern Daraa, where an 11-year-old child died from sniper fire, according to the Syrian Observatory for Human Rights said.
Troops shot and wounded five protesters in the capital and 20 in the central town of Helfaya, where two civilians also died, while another demonstrator was killed in the northern city of Aleppo, the Britain-based Observatory said.
Aleppo-based activist Mohammed al-Halabi said the protester died from his wounds after regime forces opened fire in the Salaheddine neighbourhood.
All but one of those killed on Friday were civilians, with one soldier killed and six others wounded in Jisr al-Shugur city in Idlib province when a blast hit their vehicle.
State television, meanwhile, said troops killed a would-be suicide bomber in Aleppo.
"The Syrian authorities have foiled an attempted suicide attack in Al-Shaar area in Aleppo, and killed the would-be attacker," the channel added, saying the attacker's car was laden with 2,640 pounds of explosives.
Anti-regime activists dismissed the official account of a foiled attack as "a lie," according to Mr Halabi.
"It is not in the interests of the (rebel) Free Syrian Army to stage attacks on a Friday," the day of weekly mass anti-regime protests over the past 14 months, Mr Halabi said.
Thursday's bomb attacks in the capital were the deadliest in 14 months of unrest, killing 55 people and wounding nearly 400, to a chorus of international condemnation.
The United Nations called on both sides in the conflict to co-operate with a month-old ceasefire as President Bashar al-Assad's regime and the opposition traded accusations over the perpetrators of the carnage.
More than 12,000 people, the majority of them civilians, have died since the uprising began, according to the Observatory, including more than 900 killed since the April 12 truce went into effect.
Telegraph