Hezbollah used Aoun in attacks against Jumblatt, report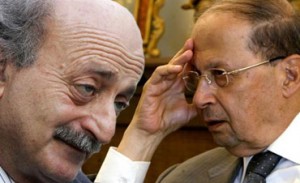 According to an article by Naoufal Dao in the Kuwaiti newspaper al Jareeda published on Friday, general Michel Aoun in his recent attacks against Progressive Socialist Party leader MP Walid Jumblatt was not acting individually but was speaking on behalf of Hezbollah. He was reportedly sending a warning from Hezbollah to Jumblatt that the Shiite party will not allow March 14 to regain majority in the parliament under any circumstances.
The paper added that Aoun's threats to Jumblatt were intended to warn him that he could face the same fate as Lebanese Forces leader Samir Geagea faced in 1994 when he was sent to jail four years following the Taef accord.
Addressing Jumblatt following his weekly bloc's meeting Aoun warned :
"It is better for you to remain silent. You [said] that you had stolen (public funds) and lied (to people), and it is my right to say whatever I want, to demand that you be tried and for your parliamentary immunity be lifted."
He also threatened Jumblatt by saying "Do not dare unleash your tongue again, we have suffered enough because of you."
In drawing the parallel between Jumblatt in 2012 and Geagea in 1994 the daily said that the Lebanese Forces leader initially signed off on the Taif accord following the end of the civil war but he later changed his mind and for this reason the Syrians decided to punish him by fabricating charges against him. He was sentenced to four death sentences, each of which was commuted to life in prison. Geagea was imprisoned in solitary confinement below the Lebanese Ministry of Defense building in Beirut for the next 11 years. Following the Cedar Revolution, and the subsequent withdrawal of Syrian forces from Lebanon, a newly-elected Lebanese Parliament voted to grant him amnesty on July 18, 2005.
Jumblatt according to the daily signed off on the settlement with Syria that was negotiated by Hezbollah following the collapse of the Lebanese cabinet of former PM Saad Hariri and since he is now reneging on the deal he could face the same fate as Geagea did in 1994.
According to the daily Hezbollah has been also sending direct and indirect messages to Jumblatt warning him against any attempt to help March 14 regain the majority in the parliament.