Assad trying to destroy UN peace, says Syria opposition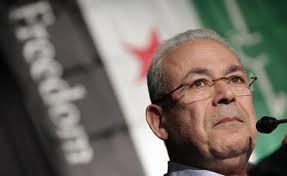 A Syrian opposition leader said Friday that President Bashar Assad's regime is trying to destroy a U.N.-brokered peace plan for the country. The accusations came as security forces fanned out following twin suicide car bombings that killed 55 people in Damascus.
The bombings on Thursday fueled fears of a rising Islamic militant element among those seeking to oust Assad and dealt a further blow to international efforts to end the bloodshed. Assad's government blamed the blasts on armed terrorists it says are driving the uprising.
On Friday, a pro-government TV station said security forces prevented another massive bombing in the northern city of Aleppo, Syria's largest, shooting dead a suicide attacker shortly before he detonated a mini bus filled with 3,300 pounds of explosives.
Ikhbariya TV broadcast footage of a Syrian police general showing two U.N. observers the minibus and four large metal containers that were rigged with explosives. A bearded and bloodied dead man was in the driver's seat wearing what appeared to be an explosive belt. The station said the man tried to detonate the minibus Friday afternoon in the busy neighborhood of Shaar.
"It was similar to the terrorist attack that targeted Damascus yesterday," the general told the observers.
During a news conference in Tokyo, Burhan Ghalioun, chief of the opposition Syrian National Council, said there would be no peaceful solution to the violence in Syria without "a threat of force against those who don't implement the plan."
"Assad feels that he can run away from implementing all of his obligations without any consequences," Ghalioun said.
In Damascus, workers were paving over two massive craters caused by the bombs that struck a Syrian military compound Thursday. The attack, which also wounded more than 370 people. Security forces armed with Kalashnikov rifles were guarding the compound Friday.
There was no immediate claim of responsibility, but a shadowy militant group calling itself the Al-Nusra Front has claimed past attacks through statements on militant websites. Little is known about the group, although Western intelligence officials say it could be a front for al Qaeda's Iraq branch.
The blast was the largest and most deadly yet in a series of bombings targeting state security buildings since last December. Most of these have been in Aleppo and Damascus, Syria's two largest cities, which have generally stood by Assad since the uprising against his rule broke out in March 2011.
Ghalioun suggested the regime was somehow behind the blasts as a way to taint the uprising.
"The relationship between the Syrian regime and al Qaeda is very strong," he said.
The rebel Free Syrian Army also condemned the attacks and blamed the regime for staging them as a way to bolster its claims that terrorists are behind the uprising against Assad.
"The Syrian regime wanted through these terrorist explosions to support its silly story of the presence of armed and terrorist gangs," said the statement, read by a man who identified himself as Col. Qassim Saad-Eddine and delivered in a video broadcast.
Mohammed Hussein, who lives across the street from the military compound that was targeted Thursday, was clearing debris from his home Friday. He said the windows and doors were blown away.
"We will have to throw everything away," said Hussein, who was struck by shrapnel in the blast.
In other parts of Damascus, uniformed and plainclothes policemen staked out positions at major intersections around noon ahead of Friday prayers, after which crowds typically assemble for anti-Assad protests. There was also a security presence outside government institutions.
Activists reported demonstrations in several parts of the country. The Local Coordination Committees and the Britain-based Syrian Observatory for Human Rights said security forces shot dead at least two people in the central village of Halfaya in Hama province.
Ghalioun was visiting Tokyo at the government's invitation and is appealing for diplomatic support and more humanitarian aid. Japan has already provided $3 million in aid, and Foreign Minister Koichiro Gemba said Thursday during his meeting with Ghalioun that Tokyo was considering adding to that.
Ghalioun told journalists that Assad's government had recently been resorting to terrorist tactics to keep people from going out on the streets to demonstrate.
"The Annan plan is in crisis today," he said. The plan will die if Assad's government keeps on challenging it and "continues using terrorist bombings."
"We believe that now we cannot reach any compromise through negotiations if Bashar Assad is still in power because he will try to abort any initiative that is based on a political solution," he said.
If the Annan plan fails, "the only choice for us will be armed conflict," Ghalioun said.
Also Friday, U.N. Mission spokesman Neeraj Singh told reporters that the number of military observers in the country has risen to 105.
"We are expanding our presence, reinforcing our presence in all the locations we are based," Singh said, adding that 11 observers are now based in the central city of Homs while there are four each in the southern city of Daraa and northern cities of Aleppo and Idlib.
Activists and Syria's state-run media reported that a team of observers on Friday visited the Damascus suburb of Dumair, which has witnessed anti-government activities in the past. Syrian TV showed a U.N. SUV that had its back windshield broken, and said it was hit by thrown by anti-government protesters. The TV said no observers were hurt.
Syria's state-run news agency, SANA, said an "armed terrorist group" targeted a crude oil pipeline in the eastern oil-rich region of Deir el-Zour on Thursday night. It said a small fire broke out but was extinguished shortly afterward.
There have been several attacks on oil pipelines, mostly in Deir el-Zour and Homs.
CBS