US, UN chief slam Syria election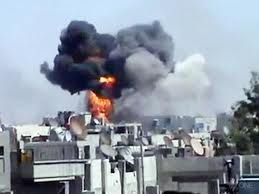 The United States said on Monday Syria's parliamentary election "borders on ludicrous" while UN chief Ban Ki-moon slammed the Syrian government for holding a national election while violence is still raging and for failing to involve all parties.
"It's not really possible to hold credible elections in a climate where basic human rights are being denied to the citizens and the government is continuing to carry out daily assaults... on its own citizens," State Department deputy spokesman Mark Toner said.
"To hold a parliamentary election in that kind of atmosphere borders on ludicrous," Toner told reporters.
Syrians were voting on Monday in the country's first "multi-party" parliamentary election in five decades, being held against a backdrop of violence and dismissed as a sham by the opposition.
Young and old cast their ballots in neighborhoods of the capital and various other regions, while in opposition strongholds residents boycotted the vote, instead holding protests and a general strike.
The election was being held despite unrest that has swept the country since March 2011 when Assad resorted to force in a bid to quash a revolt against his autocratic regime.
The vote, initially scheduled for last September, was postponed to May 7 after Assad announced the launch of a reform process backed by a referendum.
UN chief Mr Ban also slammed Syria's decision to hold an election.
"Only a comprehensive and inclusive political dialogue can lead to a genuine democratic future in Syria," Ban said through his spokesman Martin Nesirky. "These elections are not taking place within that framework.
"Moreover, a democratic process cannot be successful while violence is still ongoing," he added.
"It is essential that there be a cessation of violence in all its forms and action to implement" the six-point peace plan of UN-Arab League envoy Kofi Annan, Ban said in the short statement.
Channel News Asia