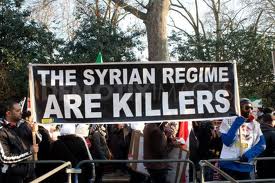 As corpses pile up in Syrian morgues, U.S. and European diplomats are growing increasingly skeptical that a U.N.-backed peace plan has a chance of ending more than a year of violence that has brought Syria to the brink of civil war.
But with Russia firmly behind U.N.-Arab League mediator Kofi Annan's six-point peace plan to end the conflict between government forces loyal to President Bashar al-Assad and opposition fighters determined to oust him, Western powers have little choice but to stick with it for now.
While the United States, Europe and Gulf Arab states have long said that Assad should step down, they lack any viable alternatives to the Annan plan to end the Syrian conflict, arguably the bloodiest of the "Arab Spring" uprisings that erupted last year across North Africa and the Middle East.
Despite suggestions from countries like Saudi Arabia and Qatar that they might arm the rebels, U.S. and European officials say there has been no systematic attempt to provide Syria's fractious opposition with weapons to carry on fighting.
Unwilling to arm the rebels and unable to break the U.N. Security Council deadlock, Western powers have no alternative to Annan's plan, which, while imperfect, is the only diplomatic effort that has had any impact on the 14-month-old conflict.
"Right now the only option that we have is to try and get all sides to cooperate to stop the violence, to allow humanitarian efforts to take place and to help the people that most need that help," said U.N. spokesman Eduardo del Buey.
Annan's plan requires the withdrawal of heavy weapons and troops from Syrian towns, an end to all violence by Syrian security forces and rebels, and dialogue between the government and opposition aimed at a "political transition." It also calls for the deployment of an unarmed U.N. truce-monitoring force.
Syria's government and the opposition promised to comply with the former U.N. chief's peace plan but have not done so. The fighting goes on and people are being killed every day.
So far, U.N. officials and diplomats say, there has been only a slight decrease in violence since the April 12 truce was declared. The rebels, outgunned, are increasingly turning to bomb attacks to target government forces, while the Syrian army pounds civilian areas with heavy weapons.
A U.N. truce-monitoring force, called UNSMIS, is struggling to get its maximum 300 unarmed military observers on the ground. It now has around 50 observers in a country with a population of 22 million. Deployment is slow since Damascus has to issue visas. It has already rejected several Europeans.
"There is effectively no ceasefire for U.N. monitors to observe," a Western diplomat told Reuters on condition of anonymity. "The time is coming where we're going to have to call it what it is."
WHITE HOUSE LOSING PATIENCE
Annan's spokesman Ahmad Fawzi told reporters in Geneva on Friday that the peace plan is "on track" and while there have been no major signs that the Syrian government is complying with the truce, there have been "small signs.
Ads By Google
The End-Time is Here
2008 was God's last warning, 2012 is economic collapse & WW III
www.the-end.com
Virgin Coconut Oil
Certified Organic Gold Label Virgin Coconut Oil. The original VCO.
TropicalTraditions.com
The head of the U.N. monitoring mission, Major General Robert Mood from Norway, told reporters during a trip to battle-scarred Hama on Thursday that observers were having a "calming effect" and the army appeared willing to cooperate with the truce in a conflict that has killed thousands of civilians.
While Mood was voicing cautious optimism, a Reuters team could hear mortars exploding in the Khalidiya neighborhood of Homs at a rate of one a minute. They also reported the sound of heavy gunfire but did not know where it was coming from.
The optimism of Fawzi and Mood also contrasts sharply with a bleak assessment the White House offered on Thursday.
"If the regime's intransigence continues, the international community is going to have to admit defeat and work to address the serious threat to peace and stability being perpetrated by the Assad regime," White House spokesman Jay Carney said.
Annan and U.N. peacekeeping chief Herve Ladsous will brief the 15-nation Security Council on developments in Syria on Tuesday. Western diplomats in New York say Annan will likely report limited progress in achieving the full ceasefire.
Annan's "natural and understandable tendency … will be to try and keep the show on the road rather than do what would really amount to be drawing a line and a declaration of failure," a senior Western diplomat said this week.
"We will have to be hardheaded," he said. "If the government continues not to comply we will want to come back to the council for a different kind of action."
Another senior envoy said: "If there's no progress, I think voices will increase that we ought to call a spade a spade."
Diplomats say such tough statements are not a critique of Annan and his team, who are anything but naive, but intended to make it clear to Assad that cat-and-mouse games with the U.N. observer team and Annan will not be tolerated.
Chicago Tribune