Opposition urged Syrians to boycott elections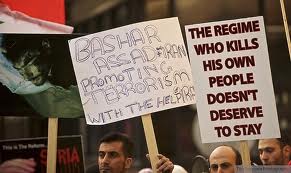 Syria's regime has called on voters to cast ballots in parliamentary elections on Monday. As heavy fighting rocked the country's east, the opposition urged Syrians to boycott the poll.
Opponents of the Syrian government said on Sunday the elections for the 250-member parliament were a cynical ploy by President Bashir al-Assad to stay in power. They urged Syrians to steer clear when voting begins on Monday.
"We think the elections have no credibility at all in the middle of a situation where the regime is killing the population," Bassma Kodmani, a spokeswoman for the Syrian National Council, the main opposition group in exile, told the Associated Press from Brussels. "It is an insult to the democratic process."
Opposition leader Haytham Manna, in Paris, said, "We are against these elections because they don't have any of the characteristics of free elections." Manna heads the National Coordination Body for Democratic Change in Syria, which represents activists within the country and abroad.
Activists inside the country also dismissed the vote.
Show of 'democratic will'
The regime hopes to use the elections to show its willingness to carry out democratic reforms. The poll was initially planned for September, but rescheduled for May 7 after Assad announced a reform process.
Since a February referendum passed new legislation to end the supremacy of the ruling Baath party and allow for the creation of a multi-party system, nine new political parties have been licensed. However, most of the best-known oppositional politicians are either in jail or have fled the country for fear of persecution.
Regime critics and analysts say the elections are unlikely to lead to political change in the country.
"The elections are a step in a void and will not lead to any change in the political landscape and security of Syria," Oraib al-Rantawi, director of the Amman-based Al-Quds Center for Political Studies, told the AFP news agency.
The regime and activists have bombed each other for bomb blasts in Damascus and Aleppo
They are taking place "amid a lack of security, continued killings and violence … while [many] are detained, suffering or displaced," he added.
The presence of 50 UN observers to oversee an internationally mediated cease-fire that went into effect three weeks ago has done little to bring an end to the conflict between the government and rebels.
Residents and anti-regime activists reported fighting between the two sides in the eastern oil-producing province of Deir al-Zor on Sunday.
'Act of defiance'
Meanwhile, Information Minister Adnan Mahmud said voting on Monday was an act of defiance.
"By taking part in the election, Syrians are defying the campaign of terrorism and aggression led by international and regional parties implicated in a terrorist war against our country," he said in a statement.
Over 9,000 people have been killed in Syria since the popular uprising began 14 months ago, according to the United Nations.