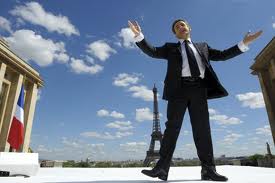 French Socialist Francois Hollande appeared headed to victory over President Nicolas Sarkozy, according to exit polls of voters released by Swiss and Belgian news media.
Those polls showed Hollande with 52 to 53 percent of the vote in an election that turned on solutions for Europe's economic crisis amid record unemployment in France.
French voters were still headed to cast their ballots when the exit polls were released in the early evening _ the results of exit polls cannot be published in France until voting ends at 8 p.m., 2 p.m. Eastern _ but the outcome seemed all but certain.
Results in Greece, where voters were selecting new members of parliament on Sunday, also pointed to an upheaval for that country's current leaders. Early polls suggested the country's two leading parties would, together, receive less than 30 percent of the ballots cast _ throwing into question who would form the next government. For Greek voters, the issue is the harsh austerity program imposed in return for last year's bailout of the Greek economy by other European nations.
More than 46 million voters were expected to turn out for Sunday's presidential election, which came two weeks after Hollande, 57, topped Sarkozy in a field of several candidates, with 28.6 percent of the vote to Sarkozy's 27.2.
Since then, Hollande has been the favorite, with not a single poll of hundreds predicting a Sarkozy victory. Sarkozy's frenetic campaigning did cut Hollande's lead, according to the last poll released Friday night, but not enough to reverse Hollande's lead.
Hollande benefited from the ballots of voters who in the first round had gone for leftist and environmentalist candidates. Sarkozy had courted conservative voters who in the first round had preferred Marine Le Pen of the National Front Party or centrist Francois Bayrou, but those voters either stayed home or split their votes between Sarkozy and Hollande.
If his victory is confirmed by the final results, Hollande will be the first leftist president since Francois Mitterrand left office in 1995, and Sarkozy will be the first president not to be granted a second term since 1981. Hollande's term in office begins May 16.
With a four- or five-point margin of victory, Hollande has partially won the "ample victory" he asked from voters and makes it more likely he will be able to press his proposed policies. Opposed to the economic "golden rule" recommended by the European Union to keep state books balanced, Hollande has promised to renegotiate the European Union's "fiscal pact," which sets tight budget rules. He's also called for a "growth pact" to stimulate stagnant economies and add new jobs. He's proposed adding 60,000 new teaching jobs, reversing a Sarkozy policy to cut education spending.
Sarkozy has called Hollande's proposals a recipe for failure and said in recent months that he would quit politics if he loses.
Sarkozy's center-right political party, the Union for a Popular Movement, will probably face reorganization after his defeat. The party current holds a majority in the National Assembly, but that seems unlikely to hold with legislative elections scheduled for next month.
Miami Herald