Israel seems to be prepping for another war, report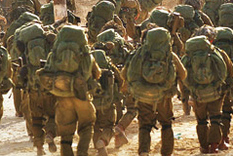 Is the Middle East headed towards a war? It sure looks that way. The Israeli Defense Forces (IDF) have mobilized six battalions of reserve duty troops to meet what Israelis have termed a "growing threat" on the Egyptian and Syrian borders. The Knesset, Israel's parliament, has approved the mobilization of an additional sixteen combat battalions, should the army brass feel it necessary.
The Times of Israel quoted an IDF spokesman as stating that "intelligence assessments called for the deployment of more soldiers" to face what the news site termed "new dangers" on Israel's northern and southern borders.
Israeli newspaper Maariv also reported on the situation, revealing that the IDF had to decide between canceling training sessions for regular duty troops but instead called up the reserves because "canceling training would mean soldiers would not be prepared in the case of an all-out war."
All Israelis, with the exceptions of Arab and the ultra-orthodox, serve a mandatory term of service following high school graduation and male veterans can expect to serve yearly stints in the reserves for until they reach their fifties.
The reason for the call up? The Times of Israel reports that "Rising tensions between Israel and Egyptand the ongoing unrest in Syria caused the army to ask the Knesset for special permission to call up more soldiers, more often."
In terms of Egypt, Israel is worried due to rising Islamic influence in the country following the fall of Mubarak, especially the ascendency of the Muslim Brotherhood, and a popular backlash against the Camp David Accords which have kept the peace between Cairo and Jerusalem since 1979.
Amr Moussa, a popular Presidential candidate in Egypt, has publicly stated that while Egypt still honors its peace with Israel, the accords are "dead."
"This signifies that the IDF regards the Egyptian and Syrian borders as the potential source of a greater threat than in the past," said former Israeli deputy chief of staff Dan Harel on Wednesday evening.
"The army needs a better 'answer' than in the past to the threat," he said, citing Egypt's deteriorating control over the Sinai, marked by an upsurge in Bedouin smuggling of weapons and other goods. He also spoke of the growing threat of terrorism from Sinai, as exemplified by an infiltration last August in which eight Israelis were killed.
The Syrian situation was also highly combustible, Harel said, "and it could explode at any moment… and pose a direct challenge to us."
One thing is for sure, Israel sure seems to be prepping for a war…
inquisitr.com