Feltman stressed US commitment to Lebanon, report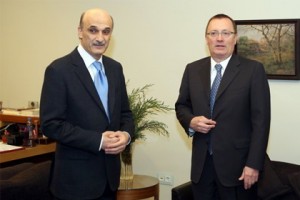 US Assistant Secretary of State for Near Eastern Affairs Jeffrey Feltman who arrived on Tuesday met with senior officials on Wednesday to discuss the political, economic, and security situation in Lebanon, as well as the developments in Syria, a statement issued by the US embassy reported.
On Wednesday Feltman and US Ambassador to Lebanon Maura Connelly met with Speaker Nabih Berri in Ain el Tinah, Lebanese Forces leader Samir Geagea and Maronite Bishop of Beirut Boulous Matar, and a number of March 14 officials
Feltman and Connelly also visited Baaqline, el Chouf to convey their condolences for the passing of Druze Spiritual leader Sheikh Abu Mohammad Jawad Walieddine.
The US envoy expressed his country's "steadfast support for pluralistic and democratic governments in the region that protect the rights of all citizens, including ethnic and religious minorities." According to the statement
Feltman also renewed the United States' "commitment to a stable, sovereign and independent Lebanon."
Voice of Lebanon radio station said the U.S. official will also hold talks with President Michel Suleiman and Prime Minister Najib Miqati on Thursday.
March 14 opposition MP Butros Harb told VOL: "It is in our interest in Lebanon to be informed about the American viewpoint on the events in the region."
"We don't live on an isolated island and we should interact with others," he added , a possible response to the Hezbollah led March 8 politicians who criticized Feltman's visit. Hezbollah's number two leader Sheikh Nain Qassem said today: "If Feltmman is here to look for an accomplishment he won't find it".
Feltman, along with visiting US Senator Joe Lieberman met Tuesday with Progressive Socialist Party leader MP Walid Jumblatt at his residence in Clemenceau, Beirut. Jumblatt hosted a dinner in their honor . U.S. Ambassador to Lebanon Maura Connelly, Cabinet ministers Ghazi Aridi, Wael Abu Faour and Alaeddine Terro, as well as PSP deputy foreign affairs official Doreid Yaghi and Jumblatt's son, Taymour were also invited.
Sources close to Jumblat told the Central News Agency that the talks with Feltman focused on the local and regional political situation.